Latest News on Margaret Rutherford
Stage Credits
  [Broadway]
1960
Minerva Goody
  [Broadway]
1947
Lady Bracknell
Stage
Performances
  [Broadway]
1960
Minerva Goody
  [Broadway]
1947
Lady Bracknell
Margaret Rutherford News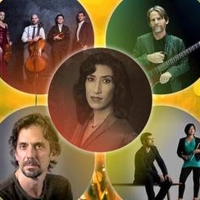 Walton Arts Center Present World Premier Of MEMOIR This Week
by Stephi Wild - May 18, 2022
Walton Arts Center is presenting the world premiere of Grammy Award-winning composer Steve Mackey's new music-theater work, Memoir, at 7 pm on Wednesday, May 18.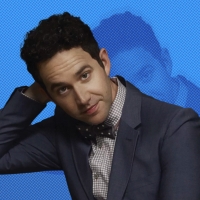 TheatreSquared's 2022 Gala For Education And Access Is Almost Sold Out
by A.A. Cristi - May 10, 2022
TheatreSquared's 2022 Gala for Education and Access, the theatre's signature annual celebration supporting arts-in-education outreach to 20,000 students throughout Arkansas, Missouri and Oklahoma is nearly sold out.
BWW Review: BLITHE SPIRIT, Harold Pinter Theatre
by Aliya Al-Hassan - Sep 22, 2021
Richard Eyre's production of Noël Coward's 1941 Blithe Spirit was just settling into its West End home last year when lockdown struck. Now revived with most of its original cast, it settles into the Harold Pinter theatre for an eight-week run, featuring a stage-stealing appearance by Jennifer Saunders.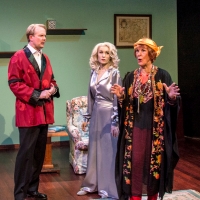 BWW Review: BLITHE SPIRIT at Little Theatre, University Of Adelaide
by Barry Lenny - Aug 16, 2021
Director, Megan Dansie, has brought out all of Noël Coward's famous wit.
Leslie Uggams, Renee Elise Goldsberry & More to Star In Reading Of BLITHE SPIRIT on STARS IN THE HOUSE
by Chloe Rabinowitz - May 7, 2020
Seth Rudetsky and James Wesley announced today that as part of 'Stars In The House's' 'Plays In The House' series, Leslie Uggams will star as Madame Arcati in a reading of BLITHE SPIRIT, presented in support of The Actors Fund with special permission from the Noël Coward Foundation.
Digitally Restored Classics THE TITFIELD THUNDERBOLT & PASSPORT TO PIMLICO Will Be Available on Loaded Blu-Ray
by Sarah Jae Leiber - Dec 5, 2019
A comical and delightful tale of community spirit, written by celebrated Ealing regular and Academy Award® Winner T.E.B. Clarke (The Lavender Hill Mob, Barnacle Bill), directed by Charles Crichton (A Fish Called Wanda, The Lavender Hill Mob) 1953's THE TITFIELD THUNDERBOLT tells the story of the inhabitants of the tiny village of Titfield, who endeavor to prove that their single-track railway is a vital form of transportation in this digitally-restored classic from Ealing Studios, whose output from the 1940s and 1950s helped define the Golden Age for British Cinema and the birthplace of the most delectable crop of films to decorate postwar cinema.
Film Movement Acquires a Treasure Trove of Digitally Restored British Classics for Release on Loaded Blu-Ray
by Abigail Charpentier - Nov 22, 2019
Since its launch in 2015, the Film Movement Classics label has been dedicated to seeking out distinctive films of the past from around the globe, and offering these digitally restored classics to cineastes everywhere. Following the recent theatrical releases of FRITZ LANG'S INDIAN EPIC and Bill Forsyth's coming-of-age classic GREGORY'S GIRL and the home entertainment releases of French farce THE MAD ADVENTURES OF RABBI JACOB and King Hu's pioneering wuxia film, THE FATE OF LEE KHAN, Film Movement has acquired a baker's dozen of British classics from the '40s-'60s for Blu-ray and digital release on the Film Movement Classics label beginning this December.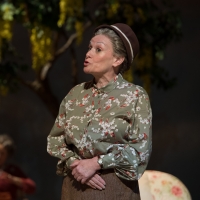 Photo Flash: First Look at the UK Tour of MURDER, MARGARET, AND ME
by Stephi Wild - Sep 26, 2019
Eastenders actress Lin Blakley will be channelling the Queen of Crime, Agatha Christie, in the upcoming UK tour of Philip Meeks' critically-acclaimed play Murder, Margaret and Me this autumn.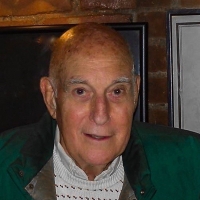 Broadway Press Agent Bob Ullman Passes Away at 97
by Nicole Rosky - Aug 8, 2019
Robert ('Bob') Ullman (left), the legendary theatre press agent, whose career included Ethel Merman and Mary Martin: Together on Broadway, A Chorus Line (from workshop to Public Theater to Broadway), Alfred Lunt and Lynn Fontanne in The Visit, Lauren Bacall in Cactus Flower, The Dining Room, Driving Miss Daisy, Sunday in the Park with George, and over 150 additional Broadway and off-Broadway plays and musicals, died on July 31, 2019 in Bayshore, Long Island, New York. He was 97. The cause of death was cardiac arrest. Bob's death was announced by Rev. Joshua Ellis, a long-time Ullman friend, a former Broadway press agent, and now, an Interspiritual minister.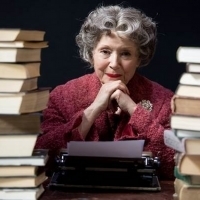 Lin Blakley Brings Agatha Christie To Life In MURDER, MARGARET, AND ME on UK Tour
by Stephi Wild - Jul 22, 2019
Lin Blakley (Eastenders, BBC) will be stepping into the shoes of Agatha Christie for the UK tour of Philip Meeks' critically acclaimed play Murder, Margaret and Me, directed by Damian Cruden (Artistic Director, Shakespeare's Rose Theatre).
Margaret Rutherford Frequently Asked Questions
How many Broadway shows has Margaret Rutherford been in?
Margaret Rutherford has appeared on Broadway in 2 shows.
How many West End shows has Margaret Rutherford been in?
Margaret Rutherford has not appeared in the West End