WHAT LINDA SAID Gets World Premiere at Summerworks 2017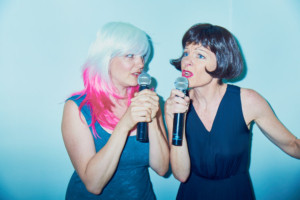 Through the lens of her real-life experiences with cancer, poet and playwright Priscila Uppal (6 Essential Questions, Factory Theatre) creates a magical and uplifting theatrical dialogue between two old friends in the new play What Linda Said. Based on Priscila's relationship with the late celebrated Canadian actress
Linda Griffith
s, What Linda Said takes a bitingly funny, poetic and personal look at coping with cancer. What Linda Said premieres at the Summerworks Festival, August 3 - 13, 2017 at the Factory Theatre Studio.
www.whatlindasaid.ca
Priscila Uppal was diagnosed with synovial sarcoma, a rare cancer that tends to strike young and healthy adults, at the same time that her friend Linda was nearing the end of her life and battle with breast cancer. Because of her treatment, Priscila was unable to visit Linda in her final days. What Linda Said is inspired by a creative visualization therapy exercise brought to jubilant life on stage. Priscila and Linda two meet in an imagined space where the living and the dead passionately, poetically, and comically explore how cancer has affected each of their lives, friendships, art, and futures.
As part of her own healing process, Priscila sought out meditation and creative visualization therapy to help her through chemotherapy. During one of the creative visualizations, she was instructed to enter an empty theatre. She put a couch on the stage. "Someone has come to visit you," the therapist said, "Who is it?" And there was Linda walking towards Priscila wrapped in the hot pink pashmina shawl. Linda said: "I live here now." Priscila said: "I miss you." They started talking. Later that day, Priscila started writing, continuing the dialogue.
Written by Priscila Uppal (6 Essential Questions, Factory Theatre); Directed by Gein Wong (No Strings (Attached), Pink Pluto/Eventual Ashes/Buddies in Bad Times); Dramaturgy by Iris Turcott and Matt McGeachy; Starring Tracey Hoyt (The Glass Menagerie, The Howland Company) as Linda and Kimwun Perehinec as Priscila (The Watershed, Porte Parole); Produced by Dr. Up Productions and Kevin Matthew Wong (Silk Bath, Next Stage); Assistant Produced by Mirka Loiselle (The Chemical Valley Project, Broadleaf Theatre); Set and Costume Design by Christine Urquhart (Hogtown, Hogtown Collective); Lighting Design by Jareth Li; Music and Sound Design by Maddie Bautista (A Midsummer Night's Dream, Shakespeare in the Ruff). Play development supported by Factory Theatre.
Dubbed "Canada's coolest poet" by Time Out London, Priscila Uppal is a poet, prose writer, playwright and Professor at York University. Publications include poetry Sabotage and Ontological Necessities (Griffin Poetry Prize finalist); novels The Divine Economy of Salvation and To Whom It May Concern; memoir Projection: Encounters with My Runaway Mother (Hilary Weston Prize, Governor General's Award finalist); short stories Cover Before Striking; and drama 6 Essential Questions. Her work has been published internationally and translated into Croatian, Dutch, French, Greek, Hungarian, Italian, Korean and Latvian. She was Canadian Athletes Now poet-in- residence during the 2010 Vancouver and 2012 London Olympic and Paralympic Games. Priscila produces theatre under Dr. Up Productions.
This production of What Linda Said is dedicated to the 3 Graces:
Linda Griffiths, Rishma Dunlop, and Iris Turcott.
Thursday August 3rd 6:45pm - 8:00pm, Saturday August 5th 2:30pm - 3:45pm, Sunday August 6th 5:15pm - 6:30pm, Monday August 7th 9:30pm - 10:45pm, Thursday August 10th 10:00pm - 11:15pm, Saturday August 12th 12:00pm - 1:15pm, Sunday August 13th 8:15pm - 9:30pm
Factory Theatre Studio, 125 Bathurst Street, Toronto, ON75 minutes. Tickets: $15, $25, or $35. Available online at summerworks.ca and at the Summerworks Box Office at the Factory Theatre, 125 Bathurst Street.