TSO Receives JUNO Nomination For Vaughan Williams: Orchestral Works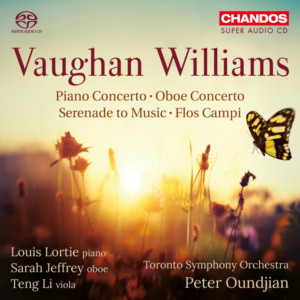 The recording of Vaughan Williams: Piano Concerto; Oboe Concerto; Serenade to Music; Flos Campi featuring the Toronto Symphony Orchestra (TSO) received a nomination for a JUNO Award in the Classical Album of the Year: Large Ensemble category.
The 2019 JUNO Award nominees were revealed earlier today by the Canadian Academy of Recording Arts and Sciences (CARAS) during a press conference at the Toronto headquarters of the Canadian Broadcasting Corporation (CBC). It is an honour for all of us at the TSO to receive this nomination, comments Matthew Loden, Chief Executive Officer. On behalf of the artists who are featured on this recording, I would like to thank conductor Peter Oundjian and Chandos Records for their incredible work. We also send our congratulations to the other exceptional Canadian nominees.
Released on the prestigious Chandos label in June 2018, this recording celebrates the Orchestra's renowned principal players and a focus on Canadian soloists, and displays a passion for the music of Vaughan Williams. The recording was captured during acclaimed live performances at Roy Thomson Hall in November 2017. The TSO's latest album has been described as a rich, often deeply sensual musical treat from start to finish by the Toronto Star and a fine collection of mostly unjustly neglected pieces in first-class performances by some of our finest artists by Ludwig van Toronto. If you buy only one new Vaughan Williams album, make this all-Canadian-cast recording the one, added World Magazine.
Featuring TSO soloists Principal Viola Teng Li and Principal Oboe Sarah Jeffrey the recording also showcases Canadian pianist Louis Lortie, and singers Carla Huhtanen, Emily D'Angelo, Lawrence Wiliford, Tyler Duncan, and the Elmer Iseler Singers, all under the direction of conductor Peter Oundjian.
Vaughan Williams: Orchestral Works
Soloists | Toronto Symphony Orchestra | Peter Oundjian
Piano Concerto in C*
Serenade to Music#
Concerto in A minor for Oboe
Flos Campi+
Artists
Carla Huhtanen | Soprano#
Emily D'Angelo | Mezzo-soprano#
Lawrence Wiliford | Tenor#
Tyler Duncan | Baritone#
Louis Lortie | Piano*
Teng Li | Viola+
Sarah Jeffrey | Oboe
Elmer Iseler Singers#+
Toronto Symphony Orchestra
Peter Oundjian
Last December, the album also received a nomination for a 61st annual GRAMMY Award in the Best Classical Compendium category. The 61st annual GRAMMY Awards take place on February 10, 2019, in Los Angeles.
The 48th annual JUNO Awards air live from Budweiser Gardens on Sunday, March 17, 2019, with performances by Loud Luxury and 2019 Canadian Music Hall of Fame inductee Corey Hart. Watch live on CBC, CBC Radio, and globally on cbcmusic.ca/junos.
Vaughan Williams: Orchestral Works (CHAN5201) is available in stores across North America, as well as on iTunes and Apple Music. The recording is also available for streaming on Spotify and for purchase on TSO.CA.