Photos: First Look at Theatre @ York's BEGGAR'S OPERA
At its London premiere in 1728, John Gay's rollicking Beggar's Opera caused a sensation. Lampooning the politics and public morality of the day, it became an instant hit. In 2014, York University's Faculty of Fine Arts brings together professional and emerging talent in theatre, music, dance and digital media in an edgy new production of this satirical masterpiece. Adapted and directed by interdisciplinary theatre artist Gwen Dobie, Theatre @ York's Beggar's Opera runs now through February 1. BroadwayWorld has a first look at the cast in action below!
It unfolds as a play within a play with a decidedly modern vibe, bringing the audience into the action. The show transforms York University's Sandra Faire & Ivan Fecan Theatre into the Lincoln Fields Correctional Institute, where visitors are subjected to 21st century surveillance measures to witness the 'inmates' performing within.
Well-known television host Pamela Parker reports live from Lincoln Fields, a medium-security prison for men and women in present-day Toronto. She's researching a story on the workings of the criminal justice system - in particular, the effectiveness of incarceration and the programs available to inmates to help them reintegrate into society once they're released.
The facility is run by the socially progressive prison warden Beckett Benjamin Graff, a lover of theatre who believes in the therapeutic power of the arts. Graff decides that the gang members, prostitutes, con artists and thieves serving their time at Lincoln Fields will benefit from the opportunity to put on a play that mirrors their plight: a play about the social ills, human failings and moral choices that have put them behind bars. The inmates have volunteered to design and perform a production of The Beggar's Opera.
The story revolves around the love triangle between the thief Macheath, Polly Peachum, the sheltered daughter of Macheath's fence, Mr. Peachum, and Lucy Lockit, the jailer's daughter. It's also a tale of corruption, social inequality, and malfeasance in high and low places. Thieves, gangsters, politicians, lawyers ... who can tell them apart?
Photo Credit: Jeremy Mimnagh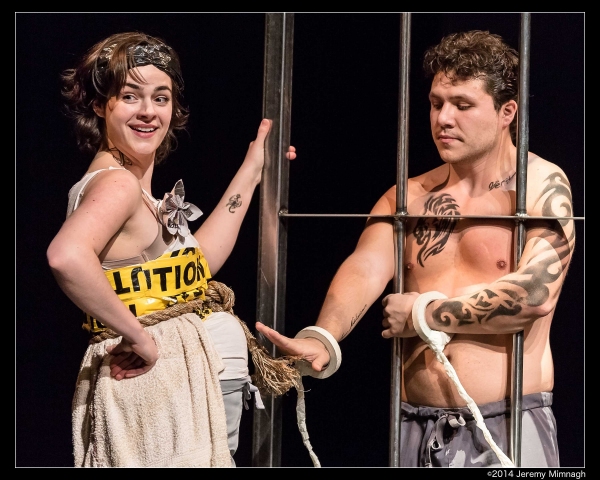 Kaili Kinnon (Lucy Lockit) and Emilio Vieira (Macheath)

Emilio Vieira (Macheath) cavorting with "the girls" - inmates in the Lincoln Fields Correctional Institute (female chorus)

Macheath's gang, inmates in the Lincoln Fields Correctional Institute (male chorus)