Photo Flash: First Look at LEGALLY BLONDE, Opening Tonight at St. Jacobs Country Playhouse
The popular motion picture Legally Blonde has burst onto the St. Jacobs Country Playhouse stage as a peppy and playful musical comedy. This quintessential tale of one blonde's journey to self-empowerment runs for the next four weeks through May 18th. BroadwayWorld has a first look at the cast in action below!
The story follows sorority president Elle Woods, a California dream girl who is seriously blonde - but not serious enough for her Harvard-bound boyfriend, Warner Huntington III. When Warner unexpectedly breaks-up with Elle on the same evening that she is hoping for a marriage proposal, Elle's perfectly pink world is turned upside down. But Elle isn't left in a funk for long when her Delta Nu sorority sisters spring into action, lifting her spirits and motivating her to become the serious girl that Warner desires. Determined to win him back, Elle crosses the country on a mission to find love at Harvard LawSchool. Arriving at the hallowed Ivy League school with her beloved Chihuahua in arm, the plucky heroine finds it difficult to gain the acceptance of her wary classmates. Considering a drastic change to fit in, Elle's saved from making a bad hair decision by her beautician and new friend, Paulette Bonafonté.
With the help of college teaching assistant Emmett Forrest, Elle eventually finds her footing in fabulous pink heels, and works her way to the top of the class. But when she lands a coveted internship, Elle's questionable legal skills are put to the ultimate test when she needs to defend a workout queen in a sensational murder trial. Will pink save the day? Channelling the same charisma that made Reese Witherspoon so winsome in the film adaptation, Jayme Armstrong tackles the role of the iconic blonde Elle Woods with tremendous aplomb. She mines great emotional depth from Elle's comical tragedies and heartfelt triumphs, and in so doing, endears herself to the audience. This is one blonde you can't help but root for. Sef Wood is delightful as Emmett, the Harvard teaching assistant who quickly sees Elle for her true worth and takes her under his wing. Emmett's loyalty is repaid when Elle helps to transform him from frumpy geek to a swoon-worthy romantic lead in the amusing musical number, "Take It Like A Man."
Elle's narcissistic and arrogant ex-boyfriend Warner is impeccably portrayed by Patrick Cook. Equally ruthless is JD Nicholsen as the stuffed-silk-shirt Professor Callahan, a true shark who doesn't mind crossing the line to get what he wants. As Elle's new hairdresser and confidante, Paulette Bonafonté, Kristen Peace is a joy to watch on stage. Her powerhouse number "Ireland" is a real crowd-pleaser, and her comedic chops are well displayed in "Bend and Snap", an outrageous ode to attracting members of the opposite sex.
The girl power theme that runs throughout the production is embodied in several other female characters - none of whom should be dismissed at face value. Valerie Stanois is memorable as the Delta Nu sorority sister turned fitness queen turned accused murderess, Brooke Wyndam. As Warner's new girlfriend, Vivienne Kensington, Lindsay Croxall reminds audiences not to judge a book by its cover.
And of course, supporting Elle through her journey of self-discovery are her Delta Nu sorority sisters, Pilar, Serena and Margot, portrayed by Karen Burthwright, Cleopatra Williams and Caitlin Goguen respectively.
Adding sparkle and zeal to an already outstanding cast of characters is an exceptional ensemble made up of Stuart Dowling, Sarah Harries, Dani Jazzar, Stacey Kay, Sarah Matton, Chad McNamara, Nicholas Nesbitt, Matt Nethersole, Gregory Pember and Rebecca Poff.
Pawing their way to stardom as scene-stealing pooches are Twilight, who shines as Bruiser, Elle's faith companion, and Bebe as Rufus, Paulette's estranged pug.
Leading the Company, Creative Team, and yes, even those canine companions, is director David Connolly. Credited with such past Drayton Entertainment hits as Disney's High School Musical and Miss Saigon, Connolly has again succeeded in mounting a production that captivates audiences. Connolly knows that the success of this upbeat show rests in the ability to make the audience care about the journey of its heroine, which he achieves by balancing scenes of glittering high-octane jubilation and intimate scenes of self-doubt.
Choreographer Robin Calvert has designed plenty of upbeat dance numbers that impress. Music Director Robert Foster guides a superbly talented band through tender ballads, catchy pop tunes, large show-stopping numbers, and even a touch of reggae.
With a pink-dominated colour scheme, the vibrant sets and detailed costumes by designer Ivan Brozic capture the effervescent spirit of the production, which is further complemented by the candy-kissed lighting design by Kevin Fraser.
Regular performance tickets are $42.00 for adults; $25.00 for youth under 20 years of age. Groups of 20 or more pay only $34.00 per ticket. HST is applicable to all ticket prices. Legally Blonde bends and snaps its way onstage through May 18th at the St. Jacobs Country Playhouse. Tickets may be purchased online at www.st.jacobscountryplayhouse.com, in person at the Box Office or by calling (519) 747-7788 or toll free 1-855-DRAYTON (372-9866).
Photo Credit: Hilary Camilleri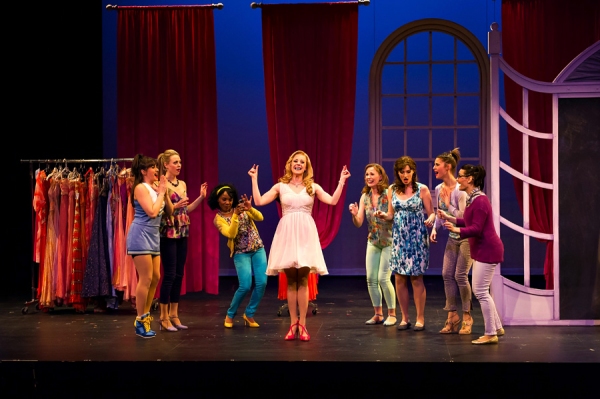 Jayme Armstrong as Elle Woods and cast of Legally Blonde

Patrick Cook as Warner Huntington III and Jayme Armstrong as Elle Woods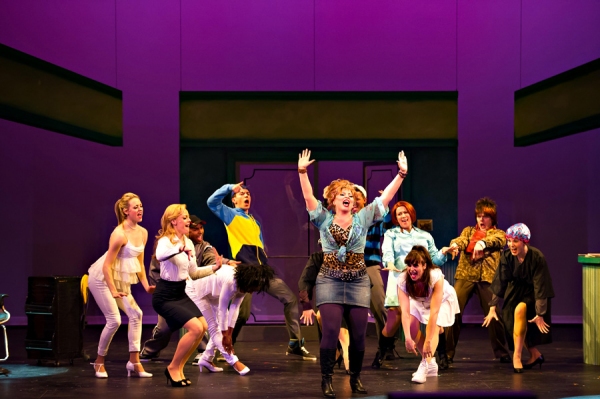 Kristen Peace as Paulette Bonafonté and cast of Legally Blonde

More Hot Stories For You