BWW Review: The Stratford Festival's Production of TARTUFFE is Hilarious, Clever, and Frighteningly Relevant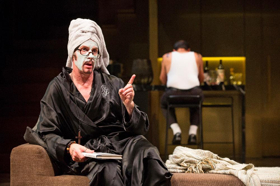 The Stratford Festival midseason openings are upon us, and first up was Director Chris Abraham's much anticipated production of Moliere's TARTUFFE at the Festival Theatre. The translation by Ranjit Bolt (with some updates to reflect current politics) finds the perfect tone and allows a French satire from 1664 to feel incredibly (almost frighteningly) relevant right now. An excellent company, led by the fantastic Tom Rooney had the audience absolutely howling. This is definitely one to see!
TARTUFFE tells the story of a family in Paris whose patriarch, Orgon (played by Graham Abbey) has taken in a poor, seemingly holy man by the name of Tartuffe (Rooney) who he thinks the world of. Most of his family does not share his love for Tartuffe and they see him as a hypocrite and con man who has somehow beguiled Orgon. This production is set in modern times with the story taking place in Orgon's sleek, expensive-looking apartment. The Design by Julie Fox allows the audience to immediately enter Orgon's home and get an immediate sense of who this family is.
The play opens with Orgon's mother, Mme Pernelle (Rosemary Dunsmore) interrupting a party and lecturing her family for not paying her enough attention and announcing that she is leaving. The only person she does like is Tartuffe as she sees him as being as close to perfect as a person can get. The rest of the family, and the maid, Dorine (a hilarious Anusree Roy) feel very differently about Tartuffe and are perplexed as to how Orgon and Mme Pernelle cannot see Tartuffe for what he is. In fact, Orgon has decided that to keep Tartuffe in the family, he will have his daughter Marianne (Mercedes Morris) marry him-even though he has already given his blessing to her beau, Valere (Johnathan Sousa). Tartuffe is far more interested in Orgon's wife, Elmire (Maev Beaty); however, and has decided to pursue her romantically-tic-tacs in hand. Hilarity ensues from there.
Abraham has assembled a fine company for this production. Anusree Roy absolutely shines as Dorine, and Rooney's performance as the disgusting and despicable Tartuffe, actually received playful "boos" from the audience during a standing ovation at the curtain call.
Much of the humour in this production comes from some clever physical comedy, as well as timely references and quotations from politics people and places south of the border. The true test of a satire is how it holds up through time. Moliere wrote this one at a time when the Roman Catholic Church had much influence on the King of France. Although I suspect that this play would have still been entertaining and somewhat relevant in past seasons, the timeliness of current political figures and events elevates the humour and overall importance of this production.
It is interesting to watch as each character, in his and her own time, reaches a point of exasperation over how anyone could possibly continue to like a person like Tartuffe. It is very easy for audience members to see themselves and their friends and family in the different characters in this play. The tone that this production sets and the overarching commentary it makes about current events allow for a cathartic for audience members who perhaps have been growing angry and anxious watching the news. This production does not shy away from being subversively political, but it is also, quite simply, a lot of fun.
TARTUFFE continues in Repertory at the Festival Theatre until October 13th.
Photo Credit: Cylla von Tiedemann
Related Articles View More Toronto

Stories

Shows