BWW Review: Britta Johnson's LIFE AFTER is Musical Theatre Perfection
Sometimes you know, within the first thirty seconds, that you're seeing something truly special. Britta Johnson's LIFE AFTER is exquisite from start to finish. Produced by the Musical Stage Company, Canadian Stage and Yonge Street Theatricals, the new Canadian work is the epitome of a well-constructed musical. Johnson's remarkable, poignant score binds with a moving story, creating a musical that is concise, complete - perfect.
After the sudden death of her father, 16-year-old Alice (Ellen Denny) confronts the many questions that arise out of loss. Alice wants answers - but they may not be the answers she was hoping for.
The leap from story to song is an eternal struggle in musical theatre. Britta Johnson's structure, however, does it just right. Each song succeeds in dragging us deeper into Johnson's world. Her musical numbers create stakes, they give her characters a resonating realness and they give the story weight - which invites us to really feel. Johnson's musical style has been compared to Stephen Sondheim. I can see why. Her music exhibits the harmonic complexity of Sondheim's best, but with melodies that are perhaps even more hummable. Like Sondheim, Johnson's lyrics cut just as deep as the heart-wrenching music that accompanies them. "If I knew anything, I would have walked 'till spring," nearly pulls at your soul.
Part of what makes LIFE AFTER work so well is the commitment to a cohesive vision. Director Robert McQueen has created an impeccable piece of theatre - no detail is too small or too extreme. Peter McBoyle's sound design is expertly crafted, transforming the cold Berkeley Street theatre into a warm, intimate space where Lynne Shankel's orchestrations are free to flourish. The quality of the orchestra, especially with Reza Jacobs shaping the music, rivals anything you hear on Broadway.
As Alice, Ellen Denny is a tour-de-force. Denny delivers the full power of her attractive, polished voice with a performance that rides the natural wave of emotion. She never seems like she's searching to connect with Alice. Singing most of the show in a sweet, clear straight tone - it is a gift when Denny is finally given a chance to belt. And what a belt.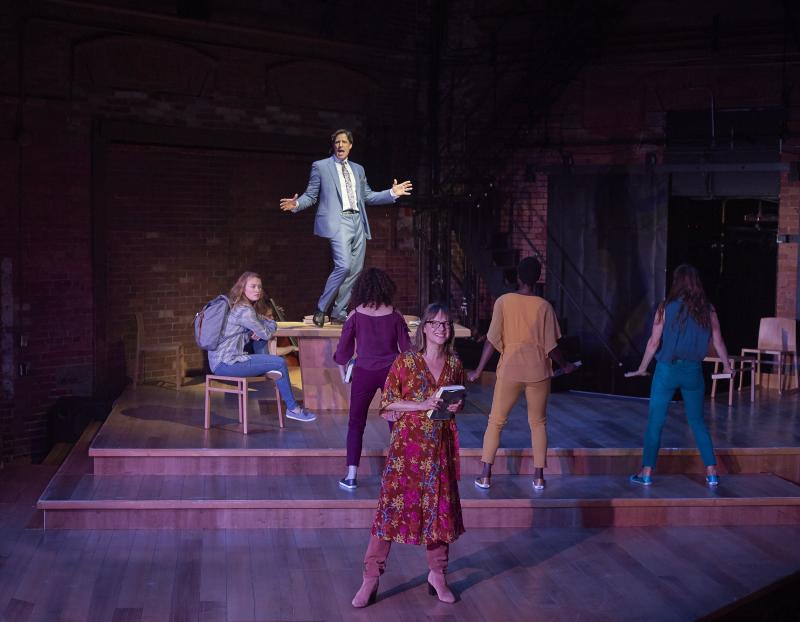 Neema Bickersteth, Barbara Fulton and Anika Johnson, are tasked with performing some of the show's most intricate and difficult music. Johnson expands the well-known Little Shop of Horrors narration-style format into something much more interesting. The three women take on a part of Alice's conscience - they become her thoughts and various aspects of her memories. Confined to Johnson's tight harmonies, the pitch-perfect trio surges through the piece with broad musical textures.
Dan Chameroy plays Alice's father, the suave self-help guru, Frank. Chameroy oozes sophistication, crooning through his numbers with ease. As Alice's very vegan sister, Rielle Braid gives an emotional show the comedy it desires. Showcasing the two extremes of how to handle grief, Trish Lindström plays Alice's cool and collected teacher, attempting to counsel her out of her sadness - while Kelsey Verzotti, playing Alice's friend Hannah, uses humour as a means of distraction.
Rachel Bay Jones recently won a Tony for her heart-breaking ballad as Evan's mother in Dear Evan Hansen. But Tracy Michailidis takes "mom-ballad" to a whole new level. If I had to pick one moment from the show that really stuck with me, Michailidis performing "Wallpaper" takes the cake. The way she emotionally builds during the piece is absolutely devastating. I spent the entire show on the brink of tears, but Michailidis, with her bright vibrato, released the flood gates.
LIFE AFTER is not something you're going to want to miss. I plan on seeing it more than once. In fact, I will see anything attached to the name, Britta Johnson. I have a feeling we're all going to become very familiar with it.
---
LIFE AFTER by Britta Johnson, is produced by the Musical Stage Company, Canadian Stage and Yonge Street Theatricals. The show runs through October 22nd at the Berkeley Street Theatre Downstairs, 26 Berkeley Street, Toronto, ON.
For more information or to purchase tickets, visit http://musicalstagecompany.com/
(main photo: Dan Chameroy & Ellen Denny in LIFE AFTER - photo by Michael Cooper.)
Related Articles View More Toronto

Stories

Shows