Visionary David Arkenstone Brings Magical Winter Fantasy Concert to Thousand Oaks Today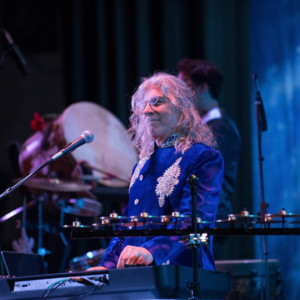 Much to the delight of his fans, 3-time Grammy nominee David Arkenstone is once again bringing his musical holiday journey to three California cities this December! Clustered around the winter solstice, David Arkenstone's Winter Fantasy will be in Cambria on the winter solstice Dec. 21, Petaluma on Dec. 22 and Thousand Oaks on Dec 23.
"Winter Fantasy takes everyone 'Around The World One Winter's Eve'. The show is a magical evening of festive original and traditional holiday tunes for the whole family," says Arkenstone from his home overlooking the Pacific Ocean. "I always enjoy doing concerts at the Thousand Oaks Civic Arts Plaza!"
Often compared to Yanni and Mannheim Steamroller, David's music has long been synonymous with the holidays with his albums like Christmas Spirit, Celtic Christmas, and Christmas Lounge. His holiday tunes are traditional to many and are played by symphonies as well as accompanying intricate programmed light displays.
"I love the winter! We're performing in front of an amazing new Snow Queen custom backdrop by artist Anna Steinbauer. It's a very special time of year, particularly around the winter solstice, and this is a wonderful way to share the season with family and friends."
Arkenstone's band of versatile world musicians includes Grammy-winning flutist Susan Craig Winsberg, pop violinist Natasha Ratz, keyboardist Doug Tidstrand, accordionist Gee Rabe and creative world music percussionists John Wakefield and Joshua Amyx.
With 60 albums in release in multiple genres, 20 Billboard hits, film & TV soundtracks and game scores, David Arkenstone is certainly one of the most prolific, diverse, and imaginative musical artists around. It's anyone's guess what adventure he will take listeners on next!
David's new album Native Christmas is in release from Green Hill Music. Always drawn to the American Southwest, this Native American Holiday Experience was partly inspired by David's participation as an Artist-In-Residence at Mesa Verde National Park in 2015.
Celebrate the season! Take the family Around The World One Winter's Eve with David Arkenstone's Winter Fantasy concert! Tickets for the Dec 23rd show are available at Ticketmaster and the Civic Arts Plaza box office.
David Arkenstone's Winter Fantasy is a Victoria Paige Meyerink / Below The Ocean production.
The 2017 Winter Fantasy Concert Dates, Cities & Venues:
http://www.thewinterfantasy.com/tour-dates.html
Dec 21 Cambria, CA - Painted Sky Studios @ 7:30pm
Dec 22 Petaluma, CA - Mystic Theatre @ 8:00pm (doors open at 7pm)
Dec 23 Thousand Oaks, CA - Scherr Forum Theatre @ 7:30pm
Official website: www.thewinterfantasy.com
Winter Fantasy promo video on YouTube: https://youtu.be/ew7roAiZCzk
David's official website: www.DavidArkenstone.com