MOULIN ROUGE!, FUNNY GIRL, and More Set For Straz Center 2023-24 Season
The season kicks off with The Choir of Man in October.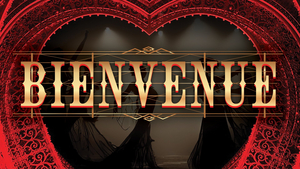 The 2023-2024 Bank of America Broadway at The Straz has been announced!
Broadway season ticket packages include these shows: Beetlejuice, Funny Girl, Company, Moulin Rouge! The Musical, Girl From The North Country, Mrs. Doubtfire, Peter Pan, and Clue (Morsani Hall), plus The Choir Of Man (Jaeb Theater).
For assistance with season tickets, you may contact the Ticket Sales Office at comments@strazcenter.org or (813) 229-7827.
New season ticket orders and renewals will be available on the website soon. To secure your season tickets today, call (813) 229-7827 or stop by the Straz Center Ticket Sales Office and visit in person.
Check out the full season lineup below!
THE CHOIR OF MAN
OCT 3, 2023 - NOV 26, 2023
Featuring pop, classic rock, folk, Broadway and pub tunes, The Choir of Man has something for everyone. A multi-talented cast of nine talented guys combines hair-raising harmonies, foot-stomping singalongs, world-class tap dance and poetic meditations on the power of community in this riotously enjoyable homage to that gathering place we all love so much: your local pub.
BEETLEJUICE
OCT 24, 2023 - OCT 29, 2023
It's showtime! Based on Tim Burton's dearly beloved film, this hilarious musical tells the story of Lydia Deetz, a strange and unusual teenager whose whole life changes when she meets a recently deceased couple and a demon with a thing for stripes. With an irreverent book, an astonishing set and a score that's out of this Netherworld, Beetlejuice is "screamingly good fun!" (Variety). And under its uproarious surface (six feet under, to be exact), it's a remarkably touching show about family, love and making the most of every day-O!
FUNNY GIRL
NOV 28, 2023 - DEC 3, 2023
Welcome to musical comedy heaven! Featuring one of the greatest musical scores of all time, including classic songs "Don't Rain On My Parade," "I'm the Greatest Star" and "People," this love letter to the theater is the story of the indomitable Fanny Brice, a girl from the Lower East Side who dreamed of a life on the stage. Everyone told her she'd never be a star, but then something funny happened-she became one of the most beloved performers in history, shining brighter than the brightest lights of Broadway.
COMPANY
JAN 9, 2024 - JAN 14, 2024
Winner of five Tony Awards including Best Revival of a Musical, Company "strikes like a lightning bolt. It's brilliantly conceived and funny as hell." (Variety). Helmed by three-time Tony Award-winning director Marianne Elliott (War Horse, The Curious Incident of the Dog in the Night-Time, Angels in America), this revelatory new production of Stephen Sondheim and George Furth's groundbreaking musical comedy is at once boldly sophisticated, deeply insightful and downright hilarious.
MOULIN ROUGE! THE MUSICAL
FEB 7, 2024 - FEB 18, 2024
Pop the champagne,MOULIN ROUGE! THE MUSICAL is the winner of 10 Tony Awards® - including Best Musical!
Enter a world of splendor and romance, of eye-popping excess, of glitz, grandeur and glory! Baz Luhrmann's revolutionary film comes to life onstage, remixed in a new musical mash-up extravaganza. A celebration of Truth, Beauty, Freedom and - above all - Love, MOULIN ROUGE! is more than a musical - it is a state of mind.
JESUS CHRIST SUPERSTAR
MAR 5, 2024 - MAR 10, 2024
Celebrating its 50th anniversary, a mesmerizing new production of the iconic musical phenomenon returns to the stage. Originally staged by London's Regent's Park Open Air Theatre and helmed by the acclaimed director Timothy Sheader (Crazy for You, Into the Woods) and cutting-edge choreographer Drew McOnie (King Kong, Strictly Ballroom), this production won the 2017 Olivier Award for Best Musical Revival garnering unprecedented reviews and accolades. Appealing to both theater audiences and concert music fans, this production pays tribute to the historic 1971 Billboard Album of the Year while creating a modern, theatrical world that is uniquely fresh and inspiring.
GIRL FROM THE NORTH COUNTRY
MAR 27, 2024 - MAR 31, 2024
Written and directed by celebrated playwright Conor McPherson and featuring Tony Award-winning orchestrations by Simon Hale, Girl From the North Country reimagines 20 legendary songs of Bob Dylan as they've never been heard before, including "Forever Young," "All Along the Watchtower," "Hurricane," "Slow Train Coming" and "Like A Rolling Stone."
MRS. DOUBTFIRE
APRIL 2-7, 2024
Everyone's favorite Scottish nanny is headed to Tampa in an internationally acclaimed new hit musical critics call "wonderful, heart-warming and laugh-out-loud funny" (Manchester Evening News) and "a feel-good, family-friendly comedy that delivers" (The Hollywood Reporter). Based on the beloved film and directed by four-time Tony Award winner Jerry Zaks, Mrs. Doubtfire tells the hysterical and heartfelt story of an out-of-work actor who will do anything for his kids. It's "the lovable, big-hearted musical comedy we need right now," raves the Chicago Tribune - one that proves we're better together.
THE BOOK OF MORMON
APR 16, 2024 - APR 21, 2024
This outrageous musical comedy follows the adventures of a mismatched pair of missionaries, sent halfway across the world to spread the Good Word. With standing-room-only productions in London, on Broadway and across North America, THE BOOK OF MORMON has truly become an international sensation. Contains explicit language.
PETER PAN
APR 30, 2024 - MAY 5, 2024
This high-flying musical has been delighting audiences of all ages for close to 70 years and is now being brought back to life in a new production directed by Emmy Award® winner Lonny Price with additional book by celebrated playwright Larissa FastHorse. The adventure begins when Peter Pan and his mischievous fairy sidekick, Tinker Bell, visit the nursery of the Darling children late one night. With a sprinkle of pixie dust and a few happy thoughts, the children are taken on a magical journey they will never forget.
CLUE
MAY 28, 2024 - JUN 2, 2024
Murder and blackmail are on the menu when six mysterious guests assemble at Boddy Manor for a night they'll never forget! Was it Mrs. Peacock in the study with the knife? Or was it Colonel Mustard in the library with the wrench? Based on the cult 1985 Paramount movie and inspired by the classic Hasbro board game, Clue is the ultimate whodunit that will leave you dying of laughter and keep you guessing until the final twist.
LES MISÉRABLES
JUN 11, 2024 - JUN 16, 2024
Cameron Mackintosh presents the acclaimed production of Boublil and Schönberg's Tony Award-winning musical phenomenon, Les Misérables. This brilliant staging has taken the world by storm and has been hailed as "a reborn dream of a production" (Daily Telegraph). Set against the backdrop of 19th century France, Les Misérables tells an enthralling story of broken dreams and unrequited love, passion, sacrifice and redemption - a timeless testament to the survival of the human spirit. The magnificent score of Les Misérables includes the songs "I Dreamed a Dream," "On My Own," "Bring Him Home," "One Day More" and many more.