BWW Review: Omigod, You Guys! - LEGALLY BLONDE: THE MUSICAL at the CFA Summer Camp Is Too Much Fun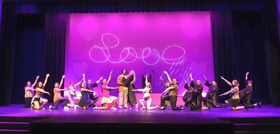 The song is still stuck in my head. There are a lot of catchy tunes in LEGALLY BLONDE: THE MUSICAL, but there is none more infectious, for good or for bad, than "Omigod, You Guys." After watching the CFA Summer Camp's take on the Laurence O'Keefe and Nell Benjamin musical last Friday, the song was on auto-play in my mind for the rest of the night. Nothing could get it out. Not the Beatles channel on Sirius. Not the best of Nirvana from my iTunes. Nothing. I was stuck with the bubbly opening number that found itself adhered to my brain, almost like an audio tattoo that would never go away. It's a day later, and it's still there. The movie version of Stephen King's It is playing on TV, but all I'm thinking is, "Omigod! Omigod you guys...Looks like Elle's gonna win the prize..."
LEGALLY BLONDE is one of the more popular shows for teens, and the MTI junior version, which has been decisively cut from the original, works quite well for a summer camp. The Center for the Arts Camp spent three weeks from the audition process (no role was precast) to final production. And it doesn't hurt that it features some of the strongest young actors in Pasco County to tell the story of up and coming lawyer, Elle Woods, and her breaking of stereotypes and snobbery at Harvard.
As Elle, Theresa Smith, a junior at a River Ridge High, does quite well. She sings marvelously and is really coming into her own as a performer. My main qualm is that sometimes she speaks so quickly, rushing through the words as if she's in a race of some kind, that we can't understand some of the lines and miss some of the jokes. But that's mostly due to opening night adrenaline.
Chris Cavazza, as Elle's college friend, Emmett Forrest, has never been more at ease onstage. Cavazza is always an energetic force, whether stealing shows as Nathan in Guys and Dolls or Fagin in Oliver! So it's nice to see him go outside of his comfort zone and play a more easygoing character, one who becomes sort of an anchor of the production.
Isabella Napoli is a major find as Paulette. She boasts an amazing singing voice, well-showcased in the musical's best number, "Ireland."
Eli Oliveri is quite effective as Callahan. One of his scenes involves a moment of Callahan's sexual harassment towards Elle that comes across quite shocking in the "me too" era. (It's a surprise that middle schools perform this with such a rightfully uncomfortable scene.)
Sarah Severinsen is like a firecracker on the stage whenever she appears (pulling double duty as Serena and as Brooke "Whipped into Shape" Wyndham). She bursts the show to life, and is always in character, always taking command and owning that stage.
Michael Shurtz, as Dewey, should teach a course in How to Steal a Show By Appearing in Just One Scene. And Brendan Bonoi quickly became the audience favorite as Kyle, proving that a simple strut across the stage could be a work of art. His hilarious "bend and snap" moment alone is worth the price of admission.
Perhaps the best in the cast is Zach D'Onofrio as Warner Huntington III. You probably remember Zach from "American Idol," where he looked all shy and studious and then opened his mouth to sing, and sounded like a jazzy Pavarotti with that bombastic voice. His Warner may look like Clark Kent, but he sings like a Superman.
Lindsey Fabian does a fine job as the antagonist, Vivienne Kensington, and she Is a phenomenal singer; I just wish the part called for her to sing more songs so that we could hear that wondrous voice even more. Joey Galto is naturally likable in his various parts, and Kyan Reich makes the most of his several cameos. (Galto and Reich even don dreadlock wigs at one part and sing a little reggae ditty; don't worry, fun as they were, they will not be dethroning Bob Marley as the King of Reggae anytime soon.)
The rest of the outstanding cast includes Ella Fresier, Madison Debrino, Savannah Peyton, Trinidy Maynard, Amariah Essary, Dustin Alexander, Zoey Martin, Victoria Senior, Bryan Lankston, Kaitlyn Platt, Alysia Rodriquez, and Jordan Simon.
The production includes two actual dogs, Oreo as Bruiser and Toby as Rufus, and they are such adorable scene stealers that every dog lover in the audience wanted to run onstage to pet them. There was a scary moment when it looked like one of the dogs was going to venture offstage into the darkness below; you could hear the audience collectively gasp, teeth simultaneously clenched. But the dog was scooped up before dropping into the audience, so all was right with the world.
The show isn't perfect. The costumes at the beginning were way too mix and match for the sorority sisters of Delta Nu. The slides used throughout were sensational at times (like when Elle's picture with her boyfriend emerge from a giant heart), but unnecessary at other times (such as a cafeteria during a prison scene). My main qualm is that, with this junior version, everything moves way too fast, so we don't get to empathize with the characters as well. It sometimes played like someone's finger was constantly pressed on the fast forward button; sometimes we need to slow down the plot in order to catch our breath.
But overall the show is a winner (it's last performance is 2:00 PM on Saturday, July 7 at the River Ridge Center for the Arts; only $5). Sensationally and energetically directed by Rick D'Onofrio, with lots of fun choreography by Terri D'Onofrio and expert music direction by Darrell Huling, LEGALLY BLONDE: THE MUSICAL is the perfect pick-me-up if you're suffering from the summertime blues. It's very much needed and appreciated these days. A show featuring not only talented teens singing their absolute best, but two of the cutest dogs on the face of the planet, should not be missed. Now, if only I can get that opening song out of my head...