Streichquintette Comes to Theater St. Gallen This Weekend
The performance is on 30 October.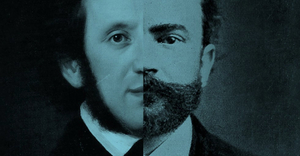 Sonntags um 5 zum Ersten: Im Rahmen der Kammermusikreihe unserer Orchestermusiker*innen steht an diesem Sonntag die Gattung Streichquintett im Fokus. Das erste der zwei Quintette mit den satten, dunklen Mittelstimmen aus Violine und zwei Bratschen stammt von Felix Mendelssohn Bartholdy. Obwohl: stellenweise wähnt man sich in einem Violinkonzert, so konzertant und virtuos legt die Primgeige los.
Das zweite, reifere Mendelssohn-Quintett jauchzt aber nicht nur himmelhoch, es geht auch tief unter die Haut. Mit Antonín Dvořáks Es-Dur-Quintett op. 97 erklingt danach ein «amerikanisches» Kammermusikwerk des böhmischen Komponisten, obwohl es, anders als das sozusagen im gleichen Atemzug während der Sommerfrische im amerikanischen Spillville entstandene F-Dur-Streichquartett op. 96, diesen Titel nicht trägt.
Dass das Quintett mit der orchestralen Klangfülle aus Dvořáks «Neuen Welt» stammt, ist dank seiner charakteristischen Themen und Rhythmen aber nicht zu überhören.


Felix Mendelssohn Bartholdy Streichquintett Nr. 2 B-Dur op. 87
Antonín Dvořák Streichquintett Es-Dur op. 97