BWW Review: PRYDH (THE PRUDES) at Playhouse Teater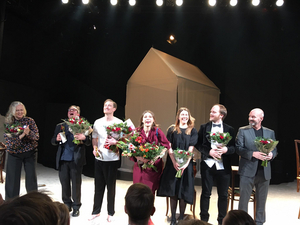 Opening night of PRYDH (The Prudes) the 19th of February at Playhouse Teater in Stockholm
PRYDH is a relationship comedy by Anthony Neilson and already when Jessica (Louise Ryme) and Jens (Peter Eggers) arrive on stage they strike a warm tone with big smiles on their lips and a welcoming body language. The audience is invited to take part in the big event that will happen tonight. The couple have been together for nine years and tonight they have decided that now they are finally going to have sex after an involuntary celibacy in 14 months and 4 days. But now it's time!
During 75 minutes, we get an insight in their relationship and in the beginning it is quite easy and loving. None of them wants to blame the other for slipping away from each other and starting to protect their own integrity and to show respect for the other. But slowly they start to share more details and approach what may have been the moment when they "lost the ball" and slowly began to change how they acted in the relationship.
The story is carried forward in a quirky way with the straightforward and fun dialogue between Jessica and Jens and the confidential monologues where they tell the audience what they really think and during the monologues the other does not hear what is being told. A good way to make the audience feel like they participate in the play and become more present. A bit like we are a therapist with whom they talk about their relationship.
Both Louise and Peter are very nuanced in their lines, which are emphasized with small gestures, glances and facial expressions. In some moments they build up the tension with silence and a shy smile. The topic may be perceived as a little sensitive and embarrassing, but they always balance on the right side, it is up close and personal, but never vulgar. They are rewarded by the audience with a mix of slightly shy giggles at the beginning but then it turns into more hearty and warm laughter. Some of the lines are totally unexpected and surprisingly funny. It's a fun play and it's so fun to see a relationship play where there is warmth and love between the characters. It is obvious they want each other well even if they slipped a little of track in the relationship. Otherwise, it is so common with relationship drama that is filled with bitterness and insults and it is quite tiring to see, despite how good the acting is. I prefer this kind of plays which are permeated with love and warmth and where you leave the theater with a smile on your lips.
PRYDH will be played at the Playhouse Teater until March 28.
https://www.playhouseteater.se/prydh.aspx
Related Articles View More Sweden

Stories

Shows