BWW Review: GROUNDHOG DAY MUSICAL (MÅNDAG HELA VECKAN) at Wermland Opera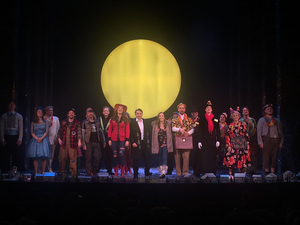 Groundhog Day the Musical or Måndag hela veckan as it is called in Sweden had it's Nordic opening night the 27th of February at the Wermland Opera in Karlstad, Sweden.
Wermland Opera is known for choosing a musical which hasn't been played in Sweden or even in the Nordic region before as their annual musical. This is quite daring for a provins theater to do, but they are have been successful for it several times. Last year they played Something Rotten! and this year Groundhog Day, which had it's world premier in London 2016.
The musical is written by Danny Rubin with music and lyrics by Tim Minchin. It is a nice mix of music styles. Rikard Björk and Sanne Skjervik have done the Swedish translation. The musical is about the arrogant meteotlogist Phil Collins (Christer Nerfont) who, with producer Rita (Micaela Sjöstedt) and photographer Larry (Tord Hansson), is assigned the task of monitoring the annual Groundhog day in Punxsutawney. An assignment he does not want at all. In this small village everyone gathered around the big event when the Groundhog will predict the arrival of spring. But a blizzard sets in and the TV crew gets stuck overnight. When Phil wakes up, he realizes to his horror that it's the same day again. And it is repeated over and over again, but with different changes that Phil himself makes, but everyone else repeats the same things all the time. He tries in different ways to seduce Rita but is always turned down for his arrogant and plump ways. But slowly he starts to change.
The first act is more superficial and with more slapsticks in it than the second act. The second act is more emotional, which is also noticeable in the music as there are some more powerful songs where the artist impresses with their singing skills. In the second act there is also a lovely ensemble tap dance created by Rachel Goodwin.
Christer Nerfont is good and confident in the role of Phil. But it is Micaela Sjöstedt who impresses most in the role of Rita and it is fun that she has now been given her own lead role after being cover for example Christine in Phantom of the Opera at Circus in Stockholm. Here she impress a lot with her singing skills, her comical timing and acting skills.
Marie Gårseth Gathe as Nancy is very impressing in the opening song in the second act. Stefan Clarin as Ned also has a powerful song in the second act.
Nigel Hook has created the fine scenografi and the colorful costumes. He had captured the essence of an American small town and I especially liked the scenografi in the scene when Phil and Rita ice skate. Stylish light design by Palle Palme. Incredibly good direction by Markus Virta.
As a whole, it is a good, enjoyable and fun musical. It will be interesting to see which musical they will do next year.
Groundhog Day will be played until the 17th of May and tickets can be purchased at:
https://www.ticketmaster.se/artist/mandag-hela-veckan-biljetter/1018882?brand=se_wermlandopera&utm_campaign=EXT_WERMLAND&utm_source=Organiskt-https://www.google.com/
Related Articles View More Sweden

Stories

Shows