Stephen Schwartz visita COMPANY en Madrid
El compositor y letrista prepara un proyecto con Antonio Banderas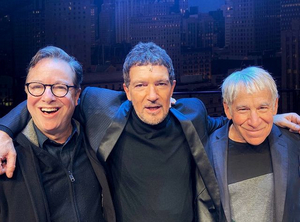 El legendario compositor y letrista Stephen Schwartz (GODSPELL, WICKED) visitó el pasado lunes el teatro Albéniz para disfrutar de COMPANY, protagonizado y dirigido por Antonio Banderas, con quien está inmerso en dos proyectos.
Por una parte, Schwartz compuso la música y letra de GODSPELL, el último montaje del Teatro del SOHO Caixabank producido por Banderas que acaba de finalizar sus funciones en Málaga.
Además, ambos estarían trabajando en un proyecto de llevar a los escenarios la vida de Pablo Picasso en un musical que Stephen Schwartz compondría y Antonio Banderas protagonizaría.
Junto a Schwartz estaba el director y dramaturgo Gordon Greenberg, responsable entre muchas otras cosas del último revival del West End de GUYS AND DOLLS o de DRACULA: A COMEDY OF TERRORS en Nueva York.
COMPANY se despide de los escenarios españoles el próximo 14 de febrero tras una exitosa temporada en Málaga y dos paradas en Barcelona y Madrid, donde ha enamorado a público y crítica.