Nostromo Live estrenará CANTANDO BAJO LA LLUVIA en 2021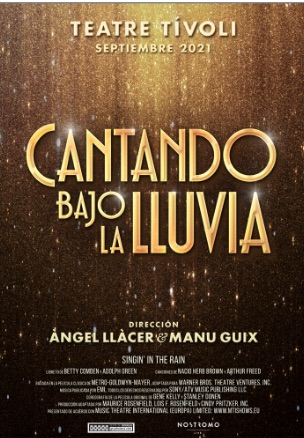 Tras el éxito de LA JAULA DE LAS LOCAS y LA TIENDA DE LOS HORRORES, Àngel Llàcer y Manu Guix afrontan la creación de su tercer musical de gran formato con Nostromo Live, CANTANDO BAJO LA LLUVIA, para el cual han convocado audiciones para el próximo mes de septiembre en Barcelona. Este es uno de los mejores musicales de todos los tiempos y un referente del cine de los años 50 que, con el tiempo, se ha convertido en un clásico del género. De su banda sonora, 'Singin' in the rain' es hoy un himno mundialmente conocido por diferentes generaciones.
Junto a la coreógrafa Miryam Benedited, con la que ya han formado equipo en los otros dos espectáculos, convocan ahora castings para elegir a los principales intérpretes del nuevo montaje, que tiene previsto su estreno en octubre de 2021 abriendo la temporada del Teatre Tívoli de Barcelona. Los castings tendrán lugar en la misma ciudad en dos fases a lo largo del mes de septiembre de este año, a partir del día 17.
Los interesados, actores y actrices cantantes a los cuales se exigen elevados niveles de claqué y jazz, deberán mandar su candidatura antes del 31 de agosto al correo electrónico audiciones@cantandobajolalluvia.es con CV, foto de cara y foto de cuerpo entero. IMPRESINDIBLE: En el asunto del email poner nombre y perfil para el cual se presentan.
Los perfiles requeridos son:
DON LOCKWOOD: Actor/cantante (25-40 años) con nivel alto de claqué y jazz.
COSMO BROWN: Actor cómico /cantante (25-40 años) con nivel alto de claqué
y jazz.
KATHY SELDEN: Actriz/cantante (25-40 años) con nivel alto de claqué y
jazz.
LINA LAMONT/DORA BAILEY: Actriz cómica /cantante (25-40 años) con nivel
alto de claqué y jazz.
SIMPSON/DEXTER: Actor cómico/cantante (30-50 años).
CANTANDO BAJO LA LLUVIA es una historia de amor ambientada en la irrupción del cine sonoro en la industria de Hollywood, que muestra toda la elegancia formal y estética característica de los años 20. Una comedia musical llena de guiños al mundo del cine, de humor y sensibilidad, que se desarrolla a través de espectaculares números de baile, escenas emotivas y canciones que hoy son un icono de género.
El excelente y divertido guion de Betty Comden y Adolph Green (ON THE TOWN) narra de forma irónica la transición del cine mudo al sonoro y las dificultades de los profesionales y artistas por adaptarse a las nuevas técnicas. Con música de Herb Brown y Arthur Freed, y bajo la dirección de Gene Kelly y Stanley Donen, la película estrenada en 1952 fue un éxito y ha sido reconocida como el mejor musical de la historia por el American Film Institute.

La nueva producción de Nostromo Live pondrá sobre el escenario a más de 30 actores
y bailarines, una escenografía espectacular, y un vestuario y unas coreografías que no
dejarán indiferente a nadie. Una propuesta imprescindible que los amantes del género
podrán disfrutar, de momento en Barcelona, a partir de otoño del año que viene.
LA JAULA DE LAS LOCAS, del mismo equipo que prepara CANTANDO BAJO LA LLUVIA, inauguró su temporada en el Teatro Tívoli de Barcelona el 2018, donde estuvo seis meses en cartel, convirtiéndose en el éxito de la temporada. En octubre de 2019 la producción se mudó al Teatro Rialto de Madrid. Hoy, La Jaula ha llevado al teatro a más de 300.000 espectadores y acaba de presentar hace unas semanas su nueva temporada en Barcelona para octubre de este año.
CANTANDO BAJO LA LLUVIA se ha llevado en varias ocasione a los escenarios. En los años 80, Tommy Steele dirigió una producción que pudo verse en Londres y en Broadway, y años más tarde Stage Entertainment, en 2012, volvió a producir una nueva versión con el famoso bailarín Adam Cooper como protagonista. En España Ricard Reguant dirigió su versión en 2005 que pudo verse en Madrid y Barcelona.
He was born in Zarzalejo, Madrid (1983). He studied Medicine in Universidad Complutense, and he's always been an avid theater-goer, specially musical theatre. He's attended (read more about this author...)