APRES GIRL Comes to National Theatre of Korea Beginning Tonight
Performances run December 17-31, 2021.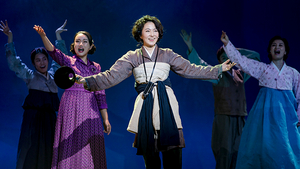 Apres girl portrays the life of Park Nam-ok, Korea's first female filmmaker. After its acclaimed premiere in 2020, the piece will be presented again at Haeoreum Grand Theater. In the 1950s when women's social activities were not encouraged, Park Nam-ok did not give up on her dream of becoming a filmmaker and, despite many hardships and despairs, made The Widow, a major work in Korean film history.
Apres girl crosses between the life of Park, who created her film while carrying her baby while on set and cooking for the cast and staff, and the time and space of her only film The Widow, offering a multi-layered portrayal of a woman who was ahead of her time. Director Kim Kwang-bo and playwright Ko Yeon-ok have closely collaborated for the past 20 years, reflecting on the issues of our immediate reality and making sure the result is entertaining for the audience as well. It also features the talents of all 3 resident companies of NTOK; their song, dance, and orchestral music will bring a deeper resonance to the performance.
Crew
Director: Kim Kwang-bo
Playwright: Ko Yeon-ok
Music Composer & Music Director: Nah Sirin
Performances run December 17-31, 2021.
Learn more at https://www.ntok.go.kr/en/Ticket/Performance/Details?performanceId=265986.