Fiddler on the Roof Photos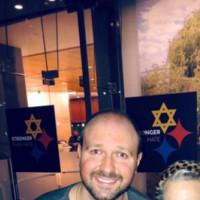 by BWW News Desk - Dec 4, 2018
On Monday night, Bette Midler attended the National Yiddish Theatre Folksbiene's presentation of Yiddish Fiddler on the Rood.
by BWW News Desk - Nov 6, 2018
Last night was a momentous occasion at the Museum of Jewish Heritage. The National Yiddish Theatre Folksbiene's Yiddish language production of Fiddler on the Roof, which recently extended its run through December 30 to meet the high demand for tickets, celebrated its 100th sold out performance. Check out photo from the celebration below, at which, the cast lifted their director, Joel Grey, in his chair!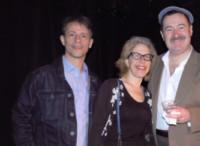 by BWW News Desk - Jul 23, 2018
TEVYE SERVED RAW opened Tuesday, July 17th. Just two nights earlier, the NYT/Folksbiene opened the first American production of FIDDLER ON THE ROOF in Yiddish. Two of the stars of that highly successful production were in attendance at the opening of TEVYE SERVED RAW. Jackie Hoffman, who plays Yente in FIDDLER, and Daniel Kahn, who plays Perchik, were the first to jump to their feet at the evening's standing ovation.