Update - Broadway Shutdown Extends To September 6 - Click Here
The Nap - Broadway
The Nap is a very funny look at the world of snooker - the British version of pool. Dylan Spokes, a fast-rising young star arrives for a championship tournament only to be confronted by the authorities warning him of the repercussions of match fixing. Before he knows it, Dylan's forced into underhanded dealings with a cast of wildly colorful characters that include his ex-convict dad, saucy mum, quick-tongued manager and a renowned gangster, to boot. It's a fast-paced comedy thriller where, in an exciting twist, the tournament unfolds live on stage.
Video preview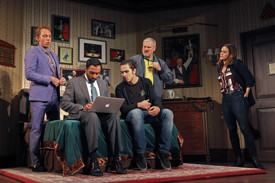 Photo preview
Schedule
Running Time: Two hours and 15 minutes, with one intermission
Twitter watch
@MTC_NYC
05/31/2020 12:12am
Although our theatres are closed now, we will not remain silent. #BlackLivesMatter #JusticeForGeorgeFloyd https://t.co/wSX4aJYdS3
Featured Reviews For The Nap
'The Nap': Theater Review - The Hollywood Reporter
Sorry, but American actors can't do regional English accents. OK, maybe Meryl Streep and a handful of others. But too few of the people on stage in The Nap, in which many of the best lines acquire their flavor from colorful Sheffield vernacular. Effortful delivery is just one issue with the wheezy direction of Daniel Sullivan, whose forte is definitely not this kind of snappy, suspenseful comedy, in which timing is everything.
'The Nap' Cues Up For Long Con, Scratches: Broadway Review - Deadline
The Nap, Broadway's latest laugh from London, tries to fool us and sometimes does, though not in ways playwright Richard Bean might have intended. Teased with the appealing prospect of an evening of Martin McDonagh-lite, we're quickly handed a cartoon con job.
The Nap Broadway Cast