The Nap - 2018 - Broadway
The Nap is a very funny look at the world of snooker - the British version of pool. Dylan Spokes, a fast-rising young star arrives for a championship tournament only to be confronted by the authorities warning him of the repercussions of match fixing. Before he knows it, Dylan's forced into underhanded dealings with a cast of wildly colorful characters that include his ex-convict dad, saucy mum, quick-tongued manager and a renowned gangster, to boot. It's a fast-paced comedy thriller where, in an exciting twist, the tournament unfolds live on stage.
Video preview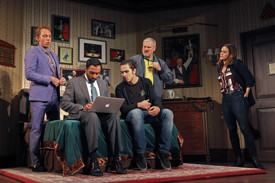 Photo preview
Schedule
Running Time: Two hours and 15 minutes, with one intermission
Twitter Watch
@MTC_NYC
01/12/2021 11:40am
We've just announced the final two plays in our 2021-22 season! Don't miss Dominique Morisseau's SKELETON CREW and… https://t.co/ziqI0di71t
Featured Reviews For The Nap
Review: It's about snooker. Broadway comedy 'The Nap' has some real playing amid the exaggerations - Chicago Tribune
The best performances are from Schnetzer and Lind, whose characters try to navigate some sort of coupling in the middle of all the insanity. Most of the other actors have created types: they get laughs and they're fun, but you never feel them breathe the same air. This American premiere also is underpaced: it's written to move with the speed of the black careening toward triumph, to ricochet with the excitement of the break, but instead you get too many pockets of air. Until the balls fly; then you want to cheer snooker's first Broadway moment.
Theater Review: Crooked Billiards and Straight Zingers in The Nap - Vulture
Happily, Bean has a sense for balance, and doesn't let his farce linger too long over romance. He soon gets back to the table: "[Play] with the nap," Dylan tells us, "the ball will run straight with the natural line. [Play] against the nap, the ball can deviate and drift..." For Bean, the nap is a straight line to a good joke. He knows his game.