Click Here for More Articles on THE ICEMAN COMETH
BWW Review: Denzel Washington Stars in George C. Wolfe's Oddly-Energized Mounting of Eugene O'Neill's THE ICEMAN COMETH
Escaping disillusionment through the comfort of alcohol while clinging to hopeless pipe dreams is rarely depicted with such crackling energy as it is in director George C. Wolfe's puzzling production of Eugene O'Neill's tragedy The Iceman Cometh.
Set in 1912, in a cheap Greenwich Village dive run by a proprietor with the cruelly symbolic name Harry Hope, The Iceman Cometh was inspired by people O'Neill met and observed at saloons like Jimmy-the-Priest's during the second decade of the 20th Century, as young man recovering from depression and alcoholism starting a career as a playwright among downtown's anarchists, writers and artists.
As explained in his extensive stage directions, Harry Hope's was modeled after businesses that took advantage of legal loopholes that allowed for the serving of alcohol after hours and on Sundays if they were licensed as hotels. Since the rotgut liquor could only be served accompanying a meal, old rancid sandwiches were placed on every table, and regulars knew never to even consider a nibble.
The loophole allows Harry's customer's pull all-nighters if they can scrounge around for enough change to keep their glasses filled. Mild entertainment is supplied watching prostitutes taking their clients upstairs.
The first of the play's four acts takes place in the early morning hours of a summer's day, when the fellows are waiting for one of their annual visits from their traveling salesman buddy, Hickey, who always arrives with a fistful of greenbacks and a generous tab to share with them.
But this time, the slick-talking son of a preacher has a new sales pitch for the boys; one that, when played effectively is apparently meant to cover up the character's own growing disillusionment.
Wolfe has gathered up an excellent company, including three Tony Award winners and two others who have been nominees.
There's Colm Meany's Harry; gracious out of necessity, but with a low tolerance for deadbeats taking advantage of his soft-hearted moments. Bill Irwin is a natural choice for his former carny brother-in-law, Ed Mosher, a harmless petty swindler.
"The Captain" (Frank Wood) and "The General" (Dakin Matthews) fought on opposing sides of the Boer War, but now keep each other company recalling past glories.
Harvard law alum Willie (Neal Huff) is so deeply alcoholic that he can often be seen involuntarily shaking while passed out at a table.
Thuggish bartender Chuck (Danny Mastrogiorgio) is engaged to prostitute Cora (Tammy Blanchard) and his dimwitted co-worker Rocky (Danny McCarthy), though he denies being a pimp, pretty much pimps for streetwalkers Pearl and Margie (Carolyn Braver and Nina Grollman).
Joe Mott (Michael Potts), the only character O'Neill scripts as being black, used to run a successful gambling establishment for gentlemen of his race.
Reg Rogers is the washed-up war correspondent Jimmy Tomorrow. Wryly commenting on the proceedings is David Morse's Larry Slade, a former political anarchist whose fondest dream would be to drink himself to death.
Though he once described the play's first act as containing "hilarious comedy," it's doubtful that O'Neill meant that in the Kaufman and Hart sense, given the bleakness clearly indicated in his text. The Iceman Cometh is traditionally staged deliberately slow. Matched with the wordiness that graces most of the playwright's work, the piece is known to play for nearly five hours and, when successful, its length can effectively convey the hopeless dreariness of the lives portrayed.
Not so, with Wolfe's production, staged at a jarringly fast pace with a trimmed script that plays through in less than four hours and draws laughs from the quirkiness of the regulars, rather than emphasizing the loneliness of their lives. The temperature of the theatre is pretty brisk as well, a practice commonly used to keep audiences alert and responsive during comedies.
For most of the first three acts the lighting by Jules Fisher and Peggy Eisenhauer is pleasantly bright, revealing the cleanliness of Harry's establishment, as designed by Santo Loquasto. When the bar is in full view Harry Hope's seems rather charming; like a fun dive where everybody knows your name.
The huge problem is that there's already so much energy in the room when above-the-title star Denzel Washington finally arrives as good old Hickey, there's no major change in the atmosphere and the play loses an important aspect of its texture.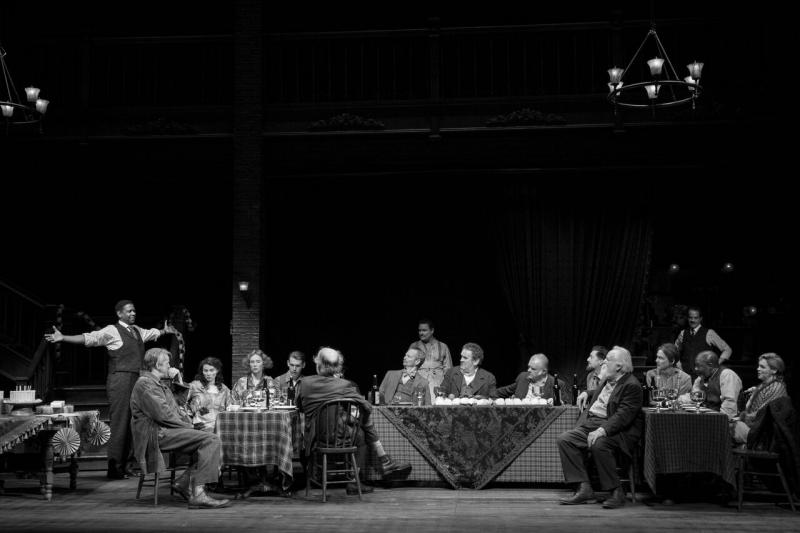 After making his 1988 Broadway debut as a little-known actor in the comedy CHECKMATES, this is Washington's fourth staring venture since his 2005 theatre comeback as Brutus in JULIUS CAESAR. As a stage actor, his strength seems to be his casual, laid back charm, which, when played without subtext, can come at the expense of making a dramatic impact. He won a Tony for a starring performance in August Wilson's magnificent drama FENCES where he played major moments for humor instead of strength. (His performance in the film version of the play was significantly different and indeed powerful.)
As Hickey, he has the charm down pat, whether regaling both his onstage and offstage audience with that old comical chestnut about the traveling salesman coming home and finding his wife keeping company with the iceman or using preacher-like skills learned from his father to encourage his saloon-mates to go out and make something of their lives. But Hickey has dark secrets that are eventually revealed, and Washington's performance lacks the underlying indications that foreshadow the character's fourth act confession.
Thanks to the lighting, Act IV is literally darker than the rest of the production, and the reason becomes apparent when Washington moves a chair downstage center to delivery a lengthy monologue directly to the audience instead of to the other characters. At this point, it's become clear that this production is meant to serve the star instead of the play.
Denzel Washington is not the first African-American to play Hickey on Broadway. In 1973, the play's first Broadway revival starred James Earl Jones in the role. While this reviewer firmly supports having actors of color playing roles scripted for white actors, this instance comes with a complication.
Throughout the play, Mott is treated with casual and not so casual racism by the denizens of Harry Hope's, including the use of racial slurs. This prompts a defiant speech by the character, where he angrily exits, insisting he's going to put his life back together and be more successful than ever. Potts gives a superlative performance in this scene and it's the best acting the production has to offer.
The complication is that Hickey is not scripted as African-American and there's no explanation brought out in the staging as to why Washington's character is not subjected to any kind of racism. It's also noticeable that Hickey and Mott, the only non-white characters on stage, do not share any kind of connection. A search for commentary on how this was handled when Jones starred in the play came up short. George C. Wolfe is certainly one the most prominent theatre artists who regularly dramatizes African-American experiences, so this white reviewer will readily accept that there may be an explanation he's just not getting.
Like the current, drastically edited Broadway revival of CAROUSEL, those unfamiliar with The Iceman Cometh may find this mounting perfectly satisfying, but this playgoer recalls how three years ago, director Robert Falls brought his devastating, much slower paced Goodman Theatre production of the same play to BAM. This revival might get you to Sardi's bar an hour earlier, but your martini might supply a greater kick than what's on stage.