Click Here for More Articles on THE ICEMAN COMETH
BWW Interview: Tammy Blanchard Has a Pipe Dream in THE ICEMAN COMETH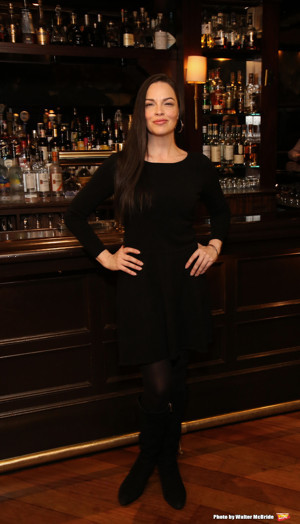 As Cora, in George C. Wolfe's revival of Eugene O'Neill's barroom tragedy, The Iceman Cometh, Tammy Blanchard has dreams of a happily married life. In New Jersey. On a farm. Never mind that she's, um, a "tart" in her delusional mind, which refuses to accept the truth about herself.
Cora's not the only one with a deluded pipe dream among the assortment of drunken losers in this riveting production helmed by Denzel Washington. But she might be one of the most sympathetic.
"I've been dreaming about being back on stage for two years," Blanchard said before a performance of the four-hour ICEMAN. Blanchard is no newbie; she was nominated for a Tony twice. The first was for her Broadway debut as Gypsy in the 2003 production that starred Bernadette Peters. More recently was her acclaimed performance as Hedy La Rue in HOW TO SUCCEED IN BUSINESS WIHOUT REALLY TRYING, with Daniel Radcliffe in 2011.
"I love playing women who are struggling but really have fight in them," Blanchard said. Cora is one of three women in the play, all of them ladies of the night. "Sometimes when you look at these women, they're always doing wrong things," Blanchard said. She finds her character empathic while still turning away from reality. "If you're blind but you're doing the best that you can, you can still bring love and depth and sympathy," she said.
ICEMAN boasts a stellar cast in addition to Washington, with other Broadway favorites-Colm Meaney, Bill Irwin and David Morse among them. Although slow-paced and tragic, ICEMAN distills the tragedy with barbed humor.
"It's very challenging to be in this play, even though I don't go on until after 45 minutes," Blanchard said. "The language is so outdated it's a little hard to relate to today," she said. "It's hard to get in the dips and dives of how you sound.
"But there's a dance between making people laugh and then you grab their hearts," she said. "There are plenty of laughs and tears in Cora's part, and I have to trust myself that I can do it justice."
The drama unfolds in Harry Hope's bar in 1912, lower Manhattan, where seedy and deluded characters tangle with existential angst. The set is spot-on shabby, with plenty of stairs to navigate. It's peopled with patrons eager to celebrate Harry's birthday. All that's missing is Theodore Hickman (Hickey), who can be counted on once a year to bring a drunkard's spin on life.
But not this year. Instead, when he finally arrives, he brings a stone-cold sober message, disappointing his peers. Cora among them.
Blanchard sees some similarity in traits she shares with Cora. "We have a lot of things in common," she said. "Cora wants to get married and live on a farm in New Jersey."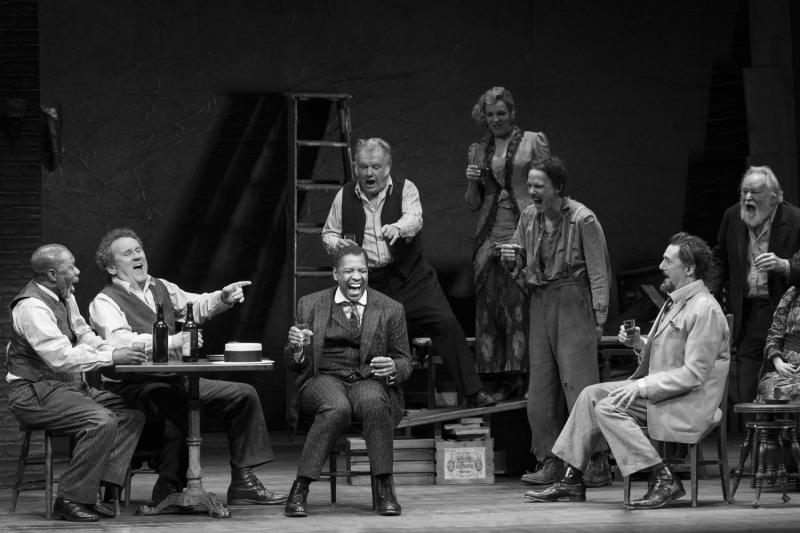 "Well, I'm from Bayonne, so I know how to throw down if I have to," she said with a laugh. Cora gets into a few altercations with her work mates Margie (Nina Grollman) and Pearl (Carolyn Braver). They, too, refer to themselves as tarts.
"I've seen women do whatever they had to do to get by. I know what it's like to be broke-I didn't grow up with a silver spoon in my mouth. My father was a Vietnam vet and had his own issues," Blanchard said. "I know the destruction that alcohol can bring.
"But I want people to have mercy for these characters on stage. It's so easy to judge people who are alone and depressed sitting in a bar," she added. "I hope I'm bringing some kindness and empathy to Cora. These people are suffering in pain."
Her fiancé, a bartender in the saloon, shies from using the term "pimp." Myriad delusions hound the would-be revelers and prevent them from advancing in life, sometimes literally. Harry, who hasn't been outside of the place in 20 years, bravely steps out. He swiftly returns, after nearly being hit by a car, or so he says.
Cora's pipe dream almost blossoms, but at the last minute her plans are changed. Involves a boat. And so on.
"I think one of the reasons she stays positive in spite of everything is she loves life. I mean, she rolls a guy for $12 and makes her boyfriend get Chinese food with it in the morning," Blanchard said.
"She tries to find joy and love in any way she can," she said. "She wants a little slice of the American pie and laughs even if she's disappointed."
The hours are grueling and Blanchard gets a challenging workout running up and down the stairs of the exquisite two-story set, designed by Santo Loquasto.
"Six months of chasing up and down steps is killer," she said. "By the time Thursday comes, we're practically crawling up those stairs."
Blanchard loves stage work. "It's two hours in and you're out," she said, with the exception of ICEMAN. "I'll never do another four-hour play," she said with a laugh. "I miss being with my daughter Ava. That's why I love Mondays. We can sit around and play Battleship.
Blanchard won an Emmy for her role as the young Judy Garland in LIFE WITH Judy Garland: ME AND MY SHADOWS. Garland has always been an idol. "When you look at her you see every little thing she's feeling," Blanchard said. "Vulnerability and sadness and hope with all her heart that dreams really do come true.
"I felt Judy's presence during that movie. I connect with her so much. She kept her heart out and sang even when she was crying," Blanchard said. "She was my saving grace growing up."
---
Blanchard credits her remarkable ability to cry with being in touch with her emotions. "I use memories of different experiences," she said. "I can cry when I need to."
She hopes audiences feel more empathy for people down on their luck. "You never know someone's story," Blanchard said. "We must be merciful with one another."
The Iceman Cometh is at the Bernard B. Jacobs Theatre, 242 West 45th Street. Costumes by Ann Roth, lighting by Jules Fisher and Peggy Eisenhauer, sound by Dan Moses Schreier and hair and wig design by Mia M. Neal. It runs through July 1.
Related Articles