American Utopia - Broadway
David Byrne's American Utopia delivers "an experience unlike anything else" (Billboard) and marks a major cultural milestone in the worlds of music and theater. Innovative pop/rock icon David Byrne (Talking Heads, Here Lies Love) shares the spotlight with a diverse ensemble of 11 musical artists from around the globe.
Together with production consultant Alex Timbers and choreographer Annie-B Parson (his collaborators on Here Lies Love), Byrne and ensemble deliver "a marvel of staging and motion" (Chicago Tribune) that's as surprisingly poignant as it is supremely funky. Don't miss this "thought-provoking example of the power of live music" (Forbes).
American Utopia began as an album that David Byrne released on Nonesuch Records in March 2018. The recording was his first to reach number 1 on the Album Chart and was also his first to reach the Top Five on the Billboard 200 chart. The theatrical concert, which includes songs from American Utopia along with songs from Talking Heads and his solo career, played more than 150 dates in 27countries over nine months in 2018.
Video preview
Photo preview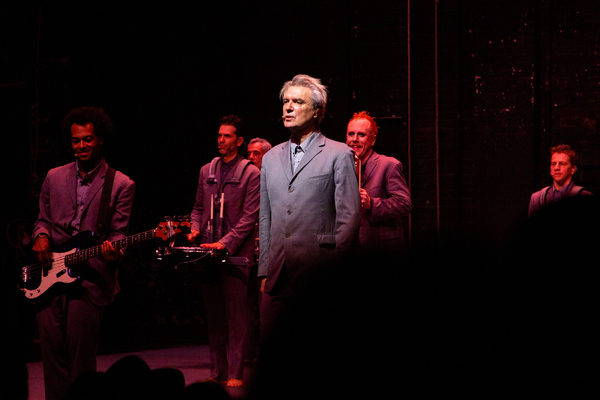 Schedule
Running Time: One hour and 40 minutes, with no intermission
Wednesdays: 8:00pm
Thursdays: 8:00pm
Fridays: 8:00pm
Saturdays: 5:00pm and 9:00pm
Sundays: 3:00pm
(New York, NY)
141 W. 44th St.
Seating Chart
Featured Reviews For American Utopia
'American Utopia' Takes a Funky-Robot Tour of David Byrne's Brain - Observer
I must admit I found the mix of ecstatic music-making and aesthetic constraint similarly joyful and puzzling. Is this coolly mechanized realm the utopia referred to by the title, a place we want to be, a monochromatic escape from the overstimulating particularities of life? Or are we witnessing what it's like inside the prison of being David Byrne? Of being ourselves? You know the etymology of utopia, right? Fittingly, Byrne chooses Little Creatures' nihilist frontier anthem, "Road to Nowhere," for the encore. If the road ends here, I'm totally OK with that.
Review: 'American Utopia' Is David Byrne's Neighborhood - New York Times
Enter the opposite side, person by person, through the magically porous, shimmering gray curtains that encase the stage. The musicians and backup singers materialize as a multiplying, multinational ensemble. Annie-B Parson's exacting, exultant and altogether astonishing choreography often have them moving in a single, tidal wave. Yet each of these gray-clad beings is irreducibly individual, and even with Byrne center stage, you want to watch everyone else all the time, too.
American Utopia Broadway Cast