Ian Gardner is STG's New Technical Director Of The Historic Paramount Theatre
Much of Gardner's focus as Technical Director will be on continued efforts to expand and diversify STG's stage crew.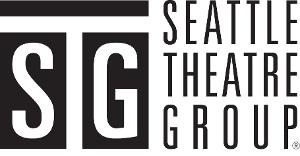 Seattle Theatre Group has announced that Ian Gardner, a leader in the Pacific Northwest's stagehand community, is the new Technical Director of the historic Paramount Theatre. Gardner, who was previously Head Carpenter at the Paramount, worked alongside and assumes the role held by Technical Director Mike Miles, who retired last month after 52 groundbreaking and inspiring years with STG. Much of Gardner's focus as Technical Director will be on continued efforts to expand and diversify STG's stage crew, building upon the work already started by the organization that is part of its ethos-to serve and reflect the community it exists in - and emphasize cultivating careers for technicians that are Black, Indigenous, and People of Color (BIPOC) at all three of its venues.
"I'm very happy to hand over the keys to Ian," said Mike Miles, STG's former Technical Director of the Paramount Theatre. "He has proven to be a leader and in many cases a mind reader-he chooses to do things exactly how I would have done them. I wouldn't feel comfortable leaving the place I poured my heart and soul into if I didn't trust my replacement. Ian fits the bill to a tee."
"Mike helmed the stage at the Paramount through every situation imaginable," said Gardner. "He steered course as the landscape changed from an industry predominantly driven by manual labor, to one that is ruled by technological advancements. It's important to look ahead and see what is before us and how behind-the-scenes work will look in the future. I'm grateful to pick up and continue the legacy started by Mike."
STG will develop a new paid internship program headed by Gardner, that works at the three venues it owns and operates-the Paramount, Moore, and Neptune Theatres. The program will have three interns per cycle that spend two months at each theatre, rotating between them over the course of six months. The program will target communities who have historically not been represented in the sector, specifically BIPOC individuals, intending to show that stagehand and related theatrical work is a sustainable career choice, and that the industry also exists for them. Interns would receive credit hours that can be applied to membership in IATSE Local 15, the union representing stagehands in Western Washington. Receiving credit hours as part of an internship would fast track these individuals through the process of working toward union membership; interns would ultimately leave the program with around 1,000 hours.
"I want STG to be a place that actively attracts and reflects our region's diverse community of theatrical artisans and workers," Gardner added. "It's my hope that this internship program and my work as Technical Director will build a better, more thriving ecosystem that reflects the community around us and that we serve. We need to continue to reshape and redefine our sector and I'm excited to help uplift and advance the careers of BIPOC stagehands now and into the future."
STG and Gardner are still determining the shape and scope of the internship program. Details and application information will be shared at a later date.
Gardner joined the STG staff in 2018 as Assistant Carpenter for the Paramount Theatre and was promoted to Head Carpenter in 2019. His roles with STG follow a rich and dynamic career that spans two decades working with a variety of arts organizations in the Pacific Northwest. He worked at the Pantages Theatre in Tacoma as Head Flyman, was an Assistant Carpenter at Seattle Opera for ten years, and is a longtime member of IATSE Local 15, the union that represents stagehands of Western Washington, serving as a member of the Executive Board, which he is still on today.