Flipping On Home To Seattle: ACROBATIC CONUNDRUM Announces New December Shows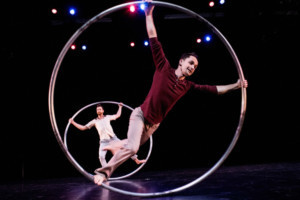 Critics are calling Acrobatic Conundrum one of the most important artistic voices in the modern circus uprising. This December, they're returning to their hometown of Seattle, to debut an astounding array of gravity-defying new works.
The stage is set at the beautiful new state of the art 12th Avenue Arts for two new pieces. First, running Dec 1 - 10 is a curated cabaret called Volume 5, which features new short works from the ensemble and guest works from some of the best contemporary circus artists in the business.
Closing out December with shows Dec 15 - 23 is The Fig Tree Waltzes. In this evening-length performance, Acrobatic Conundrum blends circus and dance into a poetic experience with ensemble-based aerial work, athletic modern choreography, and a touch of humor. In a world where stakes are high and time is running out, The Fig Tree Waltzes is a paean to the human drive to keep playing against overwhelming odds.
This new, evening-length work, features choreography from Costa Rican choreographer Jimmy Ortiz Chinchilla. Founder of the renowned El Barco Dance Conservatory and a professor of dance at Universidad de Costa Rica, Jimmy's playful and surprisingly athletic dance style considered one of the major influences in Central American modern dance.
"Acrobatic Conundrum explores pitfalls of romance while expertly defying gravity...a feast of acrobatics, juggling, mime, contortionism and dance." - Seattle Times
"This is the essence of modern circus: intimate and personal, a combination of impressive physical skills and emotional storytelling" - City Arts Magazine
ARTISTIC TEAM:
VOLUME 5
Director: Ty Vennewitz
Music: Live three piece band led by Faith Stankevich
Performers: Acrobatic Conundrum and friends
THE FIG TREE WALTZES
Director: Terry Crane and Acrobatic Conundrum
Choreography: Jimmy Ortiz Chinchilla
Artistic Advisor: Krin Haglund
Performers: Terry Crane, Melissa Knowles, Xochitl Sosa, Cooper Stanton
PERFOMANCES*
VOLUME 5
Friday, Dec 1 @ 8p
Saturday, Dec 2 @ 8p
Sunday, Dec 3 @ 5p FAMILY FUN SHOW (pre-show family activities from 4:15-5)
Friday, Dec 8 @ 8p ASL interpreted
Saturday, Dec 9 @ 8p FUNDRAISER (Gala night with sliding scale tickets and raffle)
Sunday, Dec 10 5pm FAMILY FUN SHOW (pre-show family activities from 4:15-5)
THE FIG TREE WALTZES
Friday, Dec 15 @ 8p OPENING NIGHT
Saturday, Dec 16 @ 8p
Sunday, Dec 17 @ 5p
Monday, Dec 18 @ 7:30 INDUSTRY NIGHT
Thursday, Dec 21 @ 7:30 PAY WHAT YOU CAN
Friday, Dec 22 @ 8p
Saturday, Dec 23 @ 2p
Saturday, Dec 23 @ 8p
*Note to Calendar editors - It's acceptable and preferred that the shows be listed as "Acrobatic Conundrum", think of the group as you would a band - Acrobatic Conundrum is playing 12th Avenue Arts). If you have the editorial space to make the distinction between VOLUME 5 (New cabaret with guest stars) and THE FIG TREE WALTZES (The new full length work, like a new album) that is fine as well, lead with Acrobatic Conundrum
Acrobatic Conundrum creates ensemble-based performances that engage and amaze audiences. Founded in 2012 by Artistic Director Terry Crane, the company blends virtuosic circus skill, dance, and physical theater to create work that is poetic, a little absurd, beautiful, and deeply relatable. Acrobatic Conundrum has produced five shows and appeared nationwide and internationally at such venues as New York City's SummerStage, Chicago Contemporary Circus Festival, Smithsonian American Art Museum, Vancouver CircusFest, TedxRainier, Backstreet Festival (Alexandria, Egypt) The company is a 2015 and 2017 recipient of the City of Seattle's CityArtist Project Award.
Terry Crane - Artistic Director
Terry Crane surrendered to restless urges that led him to walk calmly away with the circus at the tender age of 20. With a degree in dance from Oberlin College, his circus journey led him to the San Francisco Circus Center, the Montreal National Circus School, and the Beijing International Acrobatics School. A veteran of the big top and the stage, he has performed in countless countries for various companies, including Teatro Zinzanni, les 7 Doigts de la Main, and Circus Monti. Terry is delighted to share his love of rope technique, circus creation, and collaboration via workshops across the globe. As a director, Terry is on a relentless quest to tell true fictions, contradict human isolation, and portray paradox.
Susie Williams - Managing Director
Susie is in love with performing arts and is thrilled to have been a performer, director, teacher and producer in both circus and traditional theater. She is a graduate of Northwestern University's theater program and a Fellow in the BAM (Brooklyn Academy Of Music) Professional Development Program. Producing credits include: Bright Ideas' Aerial Salons, migrations, Landscrapes and Discord and the award winning Roundhaus video Hammertime. As a performer, Susie has appeared with the Poemas, the High Flying Pages, Lisa's Bright Ideas, Built 4 Collapse and in Kristin Geneve Young's migrations. Susie taught aerial arts at Aerial Arts NYC, STREB, TSNY, and as an adjunct professor at Pace Univeristy.
Related Articles View More Seattle

Stories

Shows
More Hot Stories For You