ENCHANT CHRISTMAS Comes to Safeco Field This Holiday Season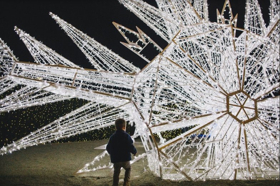 Seattle, prepare for your most captivating holiday season event to date. Enchant Christmas is an immersive holiday light experience that will transport visitors to a world with Christmas trees up to 80 feet tall, larger-than-life ornaments, twinkling snowflakes and, of course, Santa in a glittering sleigh. Brighter and more heartwarming than your wildest holidaydreams, Enchant will make its Seattle debut at Safeco Field, November 23 - December 30. The outfield will be transformed into a twinkling maze where guests will search for Santa's reindeer. The infield will house an ice-skating trail, and The Pen will become a lively music lounge.
"After overwhelmingly popular events in Vancouver, BC and Arlington, Texas, this is the first year we'll be hosting our event with a roof overhead, and Safeco Field provides the perfect space to bring our holiday celebration to a new level - with perfect weather guaranteed!" said Kevin Johnston, founder of Enchant Christmas. "Enchant is a one-of-a-kind holiday experience... the exhibits, the lights, the sounds, everything is larger than life. It really inspires that wonder of being a child at Christmas, regardless of your age."
The concourse will feature an Artisans' Market, with 100 local businesses showcasing their holiday goods. Festive local food and beverage will be available, and the Diamond Club and other premium areas will become VIP and private holiday party experiences.
"Enchant Christmas is unlike anything Seattle has ever seen and promises to be a truly magical winter wonderland experience for everyone -- families, loved ones, corporate groups, and more," said Trevor Gooby, Seattle Mariners Sr. VP, Ballpark Operations. "We're thrilled that Safeco Field can continue to be a playground and special gathering place for our community during the holiday season."
The Christmas Light Maze - Enchant's spectacular light maze takes guests through a twinkling wonderland in search of Santa's missing reindeer.
VIP Event Experiences - Safeco Field's Diamond Club, Terrace Club, and Private Suites become exclusive access rooms for VIPs and special events. Enjoy all that the Enchant experience has to offer plus full service catering, and more. Enchant Christmas is now accepting reservations for Holiday Parties. To inquire, email events@mariners.com.
Visit with Santa and Mrs. Claus - Santa will take photos in his workshop with the children and he's bringing Mrs. Claus who will be leading story time.
Enchant Christmas Artisans' Market - Shop for holiday gifts from dozens of local vendors showcasing home decor, jewelry, gourmet foods, and more. Vendor applications are still being accepted at www.EnchantChristmas.com
Food and Beverage - Enjoy holiday-themed food and drinks that are sure to please everyone.
Ice-Skating Trail - Enchant features a magical Ice-Skating Trail adorned with spectacular light displays. Rent a pair of skates at the event and take a glide with your loved ones.
Main Stage - Guests can enjoy nightly live music entertainment from a variety of local talent. A complete artist schedule will be available in November.
Santa is delivering a limited number of early bird tickets with special pricing. It's Christmas in July! To receive Santa's secret code for Christmas in July, visit www.EnchantChristmas.com
Sponsorship opportunities are available and offer an array of options. To learn more about spotlighting your business at Enchant Christmas this season, please visit the website.