Review: Dark Gritty Infidelity in Sidecountry's MURDER BALLAD
Sometimes some of the best shows out there are the cult followed ones, the ones that are really only known by niche groups or musical theater nerds. While mainstream audiences may go to shows about green girls or founding fathers, there are other audiences who travel off the beaten path to see shows Off-Broadway (or even Off-Off=Broadway) but those shows don't always get a life after their Off-Broadway Runs. Such a show could be the successful but short lived show "Murder Ballad". Luckily there are companies such as Sidecountry Theatre who take on these gems regionally the same way they tackled the brilliant "Passing Strange" a little while ago. And they tackle them with not only talent but also the obvious love and respect for a piece that deserves a wider audience.
This particular gem from Julia Jordan and Juliana Nash isn't all that complex so I won't say much lest I give it all away. Basically we have Sara (Naomi Morgan) who's caught in a dangerous love triangle with Michael (Nick Watson), her stable and loving husband, and Tom (Jordan Iosua Taylor), her hot yet non-committal former lover. As the title suggests, things with the affair reach a boiling point that's all under the watchful eye of the Narrator (Sara Henley Hicks) who leads the audience through this steamy situation.
If I'm going to be picky (and I usually am) the show itself has a few problems. As it's sung through much of the middle of the piece gets a little static and tends to drone, which doesn't lend itself to grabbing and keeping your attention. And due to that lack of attention you may miss crucial plot points of the story that luckily I caught but I know others missed making the ending a bit confusing. But mostly the opening song and the closing one break up that static nature and you know what they say, you can forgive a lot with a strong closer. The other big dilemma is partially my own fault and comes from the staging and where you sit. Director Billie Wildrick has immersed the audience into the playing area with seats all about the theater including right in the middle. This immersion works well for the intimate nature of the space and the piece but makes it so there's really no great seat in the house. At some point you're always going to be looking at someone's butt. Sadly I had far too many butt moments from my seating choice but could see others had only a few. (Hint: maybe avoid the back rows next to the bedroom.)
However, butt moments aside, the cast is loaded with talent and while mic'd, were powerful enough in this small space to be totally clear at all times and didn't really need the amplification. Hicks starts off the show with a bang and never really relents with her high-powered, face melting voice. Morgan too has quite the powerful voice at her disposal and uses it beautifully to convey both passion and pain as her character goes through this journey. Watson delivers one of the sweetest and most lamenting moments of the show and then manages to turn on a dime from sadness to rage while still singing. And Taylor's voice is so velvet smooth you often forget his actions are not so laudable.
Wildrick and Sidecountry have crafted a fine piece with this one and done a solid job in getting this obscure tuner out there which is good since it'll probably be one of the few chances for audiences around here to catch it, and catch it they should. With my three letter rating system I give Sidecountry Theatre's "Murder Ballad" a YAY- (the minus being mostly for those butt moments). A solid production that nerds and those looking for something a bit outside the mainstream should make a point to see.
"Murder Ballad" from Sidecountry Theatre performs at West of Lenin through November 13th. For tickets or information visit them online at www.sidecountrytheatre.org.
From This Author - Jay Irwin
         Born and raised in Seattle, WA, Jay has been a theater geek for years.  He attends as many shows as he can around the country and loves taking in new exciting... (read more about this author)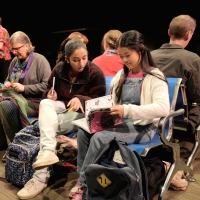 Review: THE FLIGHT BEFORE XMAS from Macha Theatre Works

December 4, 2022

Dear Readers, we all know that travelling during the holidays can be a nightmare. Delayed flights, family drama, not to mention dealing with others attempting their own travels. But as frustrating as it can be, what's not frustrating is the delightful cast of characters created by Maggie Lee in her play, "The Flight Before Xmas". A wonderful and heartfelt diversion from the usual holiday fare currently playing at West of Lenin from Macha Theatre Works.
---
Review: MR. DICKENS AND HIS CAROL at The Seattle Rep

December 1, 2022

Charles Dickens' "A Christmas Carol" is an enduring classic. We all know this. It's never been out of publication since its first publishing in 1843. It has spawned numerous movie, TV, and stage adaptations from the serious to the Muppets. Now the Seattle Rep has come along with a World Premiere of Samantha Silva's "Mr. Dickens and His Carol", based on her book of the same name. Taking a supposed look at the creation of this classic tale, this historical fiction is heavy on the fiction and light on the history, cutting a wide swath with its poetic license about the author and turning him into a pompous buffoon in a story and a production in desperate need of an editor.
---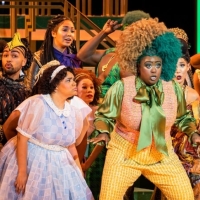 Review: THE WIZ at The 5th Avenue Theatre

November 28, 2022

L. Frank Baum's classic fantasy "The Wonderful Wizard of Oz" is the gift that just keeps on giving. From its 1901 origins to the 1939 iconic film to any number of sequels, movies, and even a Broadway musical or two, we always seem to want to hear more and more about the magical land of Oz. And no small part of those tales is the fabulous William F. Brown and Charlie Smalls, Tony Award winning musical, "The Wiz" from 1974. And now the 5th Avenue Theatre has brought this green gem to vivid life with their current delightful production.
---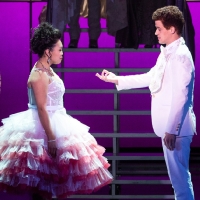 Review: RODGERS AND HAMMERSTEIN'S CINDERELLA at Village Theatre

November 19, 2022

"Rodgers and Hammerstein's Cinderella" is an enduring classic for a reason. Sure, it's family friendly and has a worldwide recognizable name, but in addition to it's wonderful songs, it's shown to be amazingly adaptable based on the production.
---
Review: NOT / OUR TOWN from Pony World Theatre

November 12, 2022

Dear Readers, there's an interesting an innovative new work based on an old classic playing in Capitol Hill with Pony World Theatre's "Not / Our Town". Even as I arrived at the theater, the pre-show activities the audience must partake in were filled with promise. Unfortunately, that promise quickly waned as this "NOT / Our Town" ended up mostly being "Our Town Highlights" mixed with one of my pet peeves, someone else's therapy on stage.
---