Review: COME FROM AWAY Nat'l Tour at 5th Ave Still One of the Best Shows I've Seen ... Ever!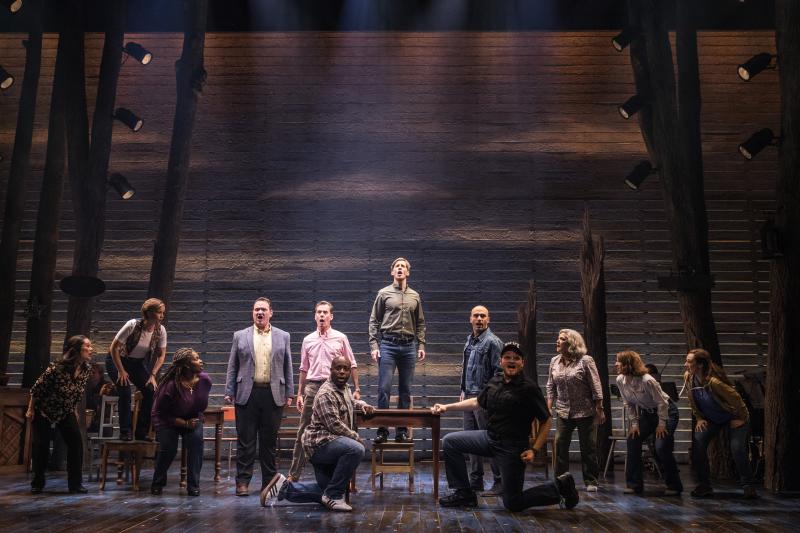 Dear Readers, as many of you know, back in November of 2015 Seattle was blessed with being one of the first cities to see "Come From Away" before it ventured on to be the hit it still is on Broadway. And if you recall my review you'll remember how I implored you to drop everything you were doing, including reading the review, and go get your tickets to catch this amazing show. And I'm sure many of my friends will attest to the constant nagging from me of "have you gotten your "Come From Away" tickets yet" so they wouldn't miss the show and the ones who succumbed still thank me to this day for said nagging. Well, Dear Readers, the first National Tour of "Come From Away" has started and it's once again blessed our city to start in, this time at the 5thAvenue Theatre, and once again I must implore you to stop reading this immediately and go get tickets to this groundbreaking, heartfelt, stunner of a show (and then of course come back and read the rest of this) and my friends are all in for another round of nagging.
For those unfamiliar, Irene Sankoff and David Hein have given us a musical about 9/11. Yes, you heard me. But not set in New York amidst the chaos there but focusing on the true story of the events in a small town, Gander, Newfoundland, and how when the planes in the air had to be diverted following the attack, this tiny airport took in 38 planes and for five days the residents there and in surrounding towns hosted over 7,000 scared and stressed people from all over the world, almost doubling the town's size overnight. And in the midst of this tragedy and the tremendous loss, what we also see here is a story of the hope, humanity and selflessness of people and how we're not all that different no matter where we come from.
The piece is structured beautifully as the incredible ensemble pulls double and triple duty or more playing both the people in the town as well as the "plane people", swapping out a simple hat or coat and becoming a whole new person. With a somewhat pop score influenced with a folk and country feel of the island, you can't help but be swept away into the show where you'll want to be and Islander too. Even without prompting, by the end the audience was clapping along, aching to be a part of the music. And it's no wonder as the show gets you so invested in it with laughter and tears. Oh yes, oh so many tears. Bring the tissues. Christopher Ashley's brilliant direction still shines through as the cast seamlessly transforms every inch of a seemingly bare stage into a bar, a plane cargo hold, a hotel room, an academy gymnasium, a plane interior, and so much more.
And for those familiar with the show, you may be worried that the touring cast may not live up to the glory that was the original cast and you would be wrong. They are just as amazing showing that this show can stand on its own, with a fantastic cast of course. Megan McGinnis, Harter Clingman, Becky Gulsvig, Emily Watson, James Earl Jones II, Kevin Carolan, Andrew Samonsky, Chamblee Ferguson, Nick Duckart, Danielle K. Thomas, Julie Johnson, and Christine Toy Johnson each brought in their A+++ games and killed it. Everything from Gulsvig's "Me and the Sky" to Ferguson and Johnson's "Stop the World" to Thomas' "I am Here" to Samonsky's "Prayer" and more are just as glorious as you may remember.
So, I seriously hope you have those tickets by now as they will not last. And so, with my three-letter rating system, I have no choice but to give "Come From Away" at the 5thAvenue Theatre the same rating I gave it two years ago, a still blown away WOW+. Now if you'll excuse me, I have some nagging to do.
"Come From Away" performs at the 5thAvenue Theatre through November 4th. For tickets or information contact the 5thAvenue Theatre box office at 206-625-1900 or visit them online at www.5thavenue.org.