EDINBURGH 2017: BWW Q&A- Rob Auton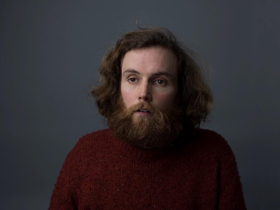 Tell us a bit about The Hair Show.
Hair Show is a show about hair and hairs. It is suitable for those who have hair, have had hair, or have seen someone with hair. To commit to the subject I have not had a shave or been to the hairdressers since last August. Te show involves haircuts I have had and my experience of hair and hairs. Every year for the past five years I have written a show on a particular subject. I start by writing the subject in the middle of a spider diagram and I then write an hour of material about that subject. I start writing it and performing bits and then I develop it into an hour long show. It gives me a chance to go off on one through writing and performing and that is my favourite thing to do. So far I have written and performed 'The Yellow Show', 'The Sky Show', 'The Face Show', 'The Water Show', 'The Sleep Show'
Why bring it to Edinburgh?
You get to do a lot of performing and that is my favourite thing to do. Every year so far I have gone up with a show and by the end of the fringe it is a different show.
What sets it apart from other shows at the Fringe?
Good question. I don't know. I have looked through the brochure and there aren't any other shows about hair by me so I guess that is what makes it different to shows that are not about hair and not by me.
Who would you recommend comes to see you?
People who stop for people at zebra crossings when driving. People who wave at people who have stopped for them at zebra crossings. People who like nature programmes. People who have seen me before and didn't hate it. People who hated it but love seeing things that they hate. Corn Flakes eaters.
Are there any other shows you're hoping to catch at the festival?
John Osborne, Kriss Foster, John Kearns, Lucy Hopkins, Spencer Jones. I will also make a point of going to see the magician who sits at the Tron end of the Royal Mile who swears at kids and the elderly. He has the best crowd interaction I have seen at the fringe.
Rob Auton performs The Hair Show at the Edinburgh Festival Fringe at Just The Tonic Fancy Room from 3rd -26th Aug at 3.55pm ahead of nationwide tour from 3rd February to the 28th April 2018. More info and tickets are available at www.robauton.co.uk
Photo Credit: Julian Ward
Related Articles
Natalie has been an avid theatre goer since her first London production of Blood Brothers when she was 12. Based in Glasgow, she also reviews (read more about this author...)