BWW Review: DERREN BROWN- UNDERGROUND, Theatre Royal, Glasgow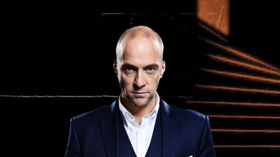 My puzzle for the evening is how to write a review about a show where I have promised to reveal nothing about the contents. Underground is billed as a 'best of' with some of Derren Brown's favourite illusions from previous shows.
What I can talk about is the staging of the performance and Brown's ability as a showman. The stage setting is very atmospheric and the Theatre Royal was the perfect venue to have a relatively intimate experience with the world-renowned illusionist. Brown is an incredibly charismatic entertainer and a master of his art. The performance keeps momentum throughout and the audience are completely enthralled.
Underground was the perfect choice for my first Derren Brown show as it was an excellent introduction to his work. To say that it was 'jaw dropping' has become a cliché but my mouth was genuinely hanging open for almost the entire performance.
Although I'm under strict instructions not to reveal any spoilers about the content of the show- I'm not entirely sure I could explain what I saw, even if I wanted to..
Derren Brown- Underground runs at the Theatre Royal, Glasgow until Saturday 9th June.