Review: Laura Benanti Comes to the David A Straz Center For The Performing Arts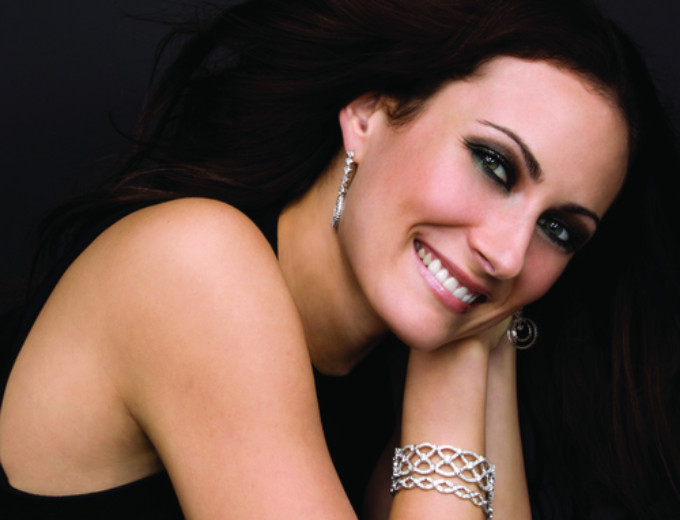 Tony Award-winning actress Laura Benanti brought her consummate performance style to its pinnacle in her one-woman cabaret show, An Evening with Laura Benanti to the Straz Centre for the Performing Arts in Tampa. Her exuberant fans showed up in big numbers to see a performer whose act transcends generations.
Gracing the stage, Miss Benanti immediately offered a heartfelt thank you to the audience for coming. This set the tone for a mutually appreciative and intimate evening of interaction. Her sense of comedic timing and quick wit for telling jokes and stories made the big hall diminutive in size compared to the accomplished arc of talent that reached out to her audience and drew them in, in a very personal way.
Arriving from New York City earlier in the day to a warm and humid Tampa made for a great joke about how beautiful her hair looked until she walked outside entering the theatre and it flopped and frizzed. We didn't notice. What we did notice was an abundance of talent delivering and eclectic genre of songs within a powerful range of vocal abilities that embraced the rafters. At times she was playful, banging on a drum and telling jokes and other times was more reflective and mellow. She took a few good-hearted jabs at famous people who can't or don't sing like the Kardashians and Paula Abdul. It brought a cheer from the audience when she said, "I remember when in order to be famous you had to have talent". She did a fun mash-up of several of her favorite songs and her interpretation of "Proud Mary" moved the crowd to sing along. She told stories about her daughter and her sweet yet serious and quirky personality, getting her wedding license, (for her third marriage), and how her teenage self felt out of place attending a "regular school" that offered very little artistic flair for their students. She talked about how her pregnancy had her throwing up during one of her performances and how she was hurt during another and passed out. When she came to on the floor, co-star Patti LuPone was holding ice on her groin. Laura asked Patti what happened and Patti quipped, "Doll, you broke your vagina!"
Musical Director Todd Almond offered lilting renderings of "Remember When", "Our Love is Here to Stay", "Vanilla Ice Cream", and of course "The Sound of Music", to name a few. He also added beautiful vocal harmonies during several songs.
This lovely and delightfully entertaining evening ended in 2 well-deserved standing ovations. I want to also make mention that fans of all ages waited outside the stage entrance after the concert in hopes for a picture or autograph. Miss Benanti stayed and met with each one personally, taking pictures, autographing items and encouraging those who expressed a desire to follow in her footsteps. It says a lot about someone of stature who takes the time after giving so much on stage to meet fans and give even more. And she's a hugger!
Laura was born with talent in her DNA. She is the daughter of Linda Wonneberger, a former actress and vocal coach, and Martin Vidnovic, a Broadway actor and singer. Her exotic combination of heritages (Serbian, German, Irish, and Native American) embolden her extraordinary features.
A 19-year-old Laura Benanti made her Broadway debut as Maria in The Sound of Music opposite Richard Chamberlain. Her outstanding performances as Gypsy Rose Lee (Drama Desk, Outer Critics Circle and Tony Awards) with Patti LuPone as well as her roles in Swing!, Nine, and Into the Woods, established her stature in musical theatre. Laura won the 2014 Nitelife Award for Outstanding Major Cabaret Vocalist and Broadway.com Cabaret Award for Best Female Celebrity Vocalist. In 2016, she earned a Tony nomination for the hit revival of She Loves Me. She is also known internationally for her roles on television in Nashville, Nurse Jackie, The Detour and Supergirl. As if this powerhouse doesn't have enough on her plate, she recently announced on Instagram that she would be teaming with the account @betches for a weekly Friday series titled Adulting with Laura Benanti, where she will be offering her insights into the world of being an adult. This should prove to be a fun and informative show as seen through her keen eyes and effervescent sense of humor. Laura is married to whom she calls a "civilian", Patrick Brown and they have a one-year-old daughter, Ella Rose.
For more information on Laura Benanti visit www.laurabenanti.com. You can read my interview with Miss Benanti at /sarasota/article/BWW-Interview-LAURA-BENANTI-at-David-A-Straz-Center-For-The-Performing-Arts-2018020.