Click Here for More Articles on OPERA - SAN FRANCISCO
San Francisco Opera Lab Pops-Up At The Great Northern, 9/20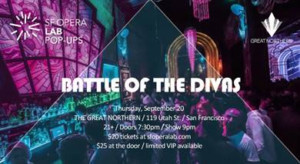 On September 20, SF Opera Lab pops up at The Great Northern in San Francisco for "Battle of the Divas," an epic head-to-head vocal battle. The Queen of the Night will officiate this vocal showdown between two teams of dueling divas and divos, with the audience helping her decide who will be triumphant. "Battle of the Divas" will be hosted by director and San Francisco Opera Adler Fellow Aria Umezawa and feature performances by Adler Fellows including sopranos Sarah Cambidge and Natalie Image, mezzo-soprano Ashley Dixon, countertenor Aryeh Nussbaum Cohen, tenor Amitai Pati and pianist John Elam, with surprise additional appearances from San Francisco Opera mainstage artists.
The Great Northern is one of San Francisco's foremost dance club/live-music venues. Located in the SOMA district, it was named "Best Nightclub" 2018 by San Francisco Magazine.
Aria Umezawa said: "What I love about The Great Northern is that they always take a holistic view for each of their events. In that spirit, 'Battle of the Divas' will make full use of the entire space with singers on the stage and out in the crowd. Everyone is encouraged to boo, applaud, get a little rowdy if they want. We will have top-notch, operatic artistry along with unapologetic camp. The focus with this pop-up is about having fun."
Engaging the "opera-curious" in a variety of settings, SF Opera Lab Pop-Ups celebrate the power of the human voice theatrically in intimate spaces beyond the War Memorial Opera House. Since 2016, SF Opera Lab Pop-Ups have been held at Public Works, The Chapel, Oasis, and Mezzanine in San Francisco and at Oakland's Uptown. For more information, visit sfoperalab.com.
SF Opera Lab's Pop-Ups are back, and we're headed to The Great Northern for the ultimate showdown. The Queen of the Night has gathered together her greatest divas to go head-to-head in an epic vocal battle. Cheer your team to victory and witness incredible vocal fireworks in a way only opera can deliver. Purchase a VIP ticket to hang out with your team's divas off-stage while enjoying a free drink from the bar.
TICKETS: $20 in advance; $25 at the door. Limited quantity of $55 VIP tickets available (VIP tickets include 1 free drink, VIP entry/VIP lounge access, meet and greet with the artists). 21+ only with valid photo ID. For tickets, visit sfoperalab.com.