SF Ballet Gives World Premiere Of Liam Scarlett's DIE TOTENINSEL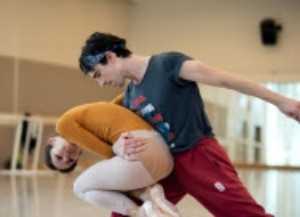 Triple-bill Program 06, Space Between, opens at San Francisco Ballet on March 29 with Tony Award-winner Justin Peck's Rodeo: Four Dance Episodes; the return of Arthur Pita's wild Björk Ballet, created for the 2018 Unbound festival; and the world premiere of Die Toteninsel by Liam Scarlett, artist in residence at The Royal Ballet. Space Between's high-intensity programming is on display until April 9 at SF War Memorial Opera House.
Liam Scarlett, whose full-length work Frankenstein was SF Ballet's 2017 sell-out hit, returns to the company for the world premiere of Die Toteninsel, set to Rachmaninoff's brooding tone poem The Isle of the Dead. "I'm always first drawn to the music," Scarlett says; Die Toteninsel is his second ballet choreographed to Rachmaninoff's large-scale symphonic work (his first was in 2017 for Symphonic Dances, created for The Royal Ballet, where he is artist in residence). Rachmaninoff's score suggests the rowing of oars and slow-building waves, and an irregular time signature-5/8-contributes to a sense of uneasiness. "Finding steps to go into five counts switches on a different way of thinking," says Scarlett. "But once you get that rhythm, it sets [the choreographic process] up from the beginning." Rachmaninoff's work was itself inspired by Arnold Böcklin's ubiquitous painting The Isle of the Dead from 1883, which depicts a small sea craft approaching an ominous, rocky islet. Lighting and scenic designer David Finn and costume designer Sandra Woodall create a world that, like Scarlett's choreography, Rachmaninoff's music, and Böcklin's painting, exposes the dark, uneasy qualities of life.
Tony Award-winning Justin Peck's Rodeo: Four Dance Episodes sets fifteen male and one female dancers to Aaron Copland's iconic Americana score. A significant departure from the cowboy narrative of choreographer Agnes De Mille's original Rodeo from 1942, Peck's ballet is twenty-four minutes of high-energy athleticism set in sunset hues. Peck created Rodeo: Four Dance Episodes in 2015 for New York City Ballet, where he has been choreographer in residence since 2014. The ballet features same-sex partnering throughout its five movements, including a tender pas de cinq in "Corral Nocturne." A honkey-tonk musical theme opens a male and female pas de deux in "Ranch House Party," and the ballet closes with the lively-and famous-"Hoe-Down," returning all sixteen dancers to the stage for a final romp. Warm-toned lighting by Brandon Stirling Baker and tracksuit-and-legwarmer costumes by Reid Bertelme, Harriet Jung, and Justin Peck suggest mid-century America in the open plains.
Commissioned for SF Ballet's 2018 Unbound: A Festival of New Works, Arthur Pita's Björk Ballet celebrates the theatricality of Björk and her music, setting songs spanning her discography, from 1993's Debut to Utopia from 2017. Pita's choreography for twenty-two total dancers mixes kicks, lunges, and squats with classically inspired technique, and features a number of striking dances, including an octet set to Björk's shimmering, bell-like "Frosti," which Pita thinks should "look like a ballerina music box on acid." Marco Morante's costuming includes metallic, fringed body suits with geometric piping, and Pita himself created additional visual décor, including eruptions of tinsel meant to resemble tall grasses and a "mirrored" floor. Called a "cacophony of glamour, craziness and fairytale" by The Guardian, Björk Ballet is a sensational experience for dancers and audiences alike.

Casting for Space Between is available here, and will continue to be updated.
Additional information, including program notes for Space Between's works, is available on San Francisco Ballet's website, in its Discovery section. Ancillary events are also scheduled, including an Exploring Ballet feature talk with University of San Francisco's Dr. Michelle Lavigne about Peck's Rodeo: Four Dance Episodes on March 24 at 3:00 pm. Meet the Artist pre-performance interviews occur on March 29, 31 and April 6 one hour before curtain. Space Between's Pointes of View lecture is April 3 at 6:00 pm.
Related Articles View More San Francisco

Stories

Shows
More Hot Stories For You