Los Altos Youth Theatre Goes Back to Middle School with 13 THE MUSICAL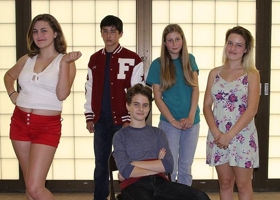 Los Altos Youth Theatre proudly brings its fall musical to the Bus Barn Theater when 13 the Musical takes the stage this November.
13 the Musical tells the story of Evan Goldman who is about to turn 13 and can't wait for his bar mitzvah, the release stated. Everything in his life is moving along as planned until he discovers that his parents are getting divorced and he's ripped away from his home in New York City and thrust into rural Appleton, Indiana. As he faces a new set of challenges, he is forced to navigate the social order at his new school. Through a series of trials, Evan learns "what it means to be a friend," the release detailed, adding that he discovers that there's more to life than establishing his place in the social pecking order.
With jubilant, upbeat music written by Jason Robert Brown, 13 the Musical is a compelling and charming coming-of-age story designed to appeal to children and adults, the release noted. Original cast members include Ariana Grande, Elizabeth Gillies, Graham Phillips and Allie Trimm.
Music and lyrics are written by three-time Tony award winner Jason Robert Brown and is based on the book by Dan Elish and Robert Horn. The show is directed by LAYT Artistic Director Jillian Cummings will be performed by youth actors from Los Altos and surrounding communities. It features Yuval Amit, Yasmine Bari, Megan Branstad, Marco Casillas, Cora Easter, Libby Frey, Chloe Geist, Hila Gotlieb, Annelise Hein, Nitzan Hod, Adele Johnson, Logan Kim, Katie King, Rosie Kline, Ajay Krishnan, Rohan Kumar, Madsen Rose, Karenna Marklein, Rachel Minden, Stephan Norquist, Jamie Penilla, Elsa Pitsch, Ella Maxine Rassmusin, Brevin Reed, Audrey Rechenmacher, May Robinson, Ritam Saha, and Eva Spaid.
13 the Musical plays at the Bus Barn Theater November 2 through 11. Friday and Saturday evening performances begin at 7 pm. Saturday and Sunday matinee performances begin at 2 pm. Ticket prices range from $15 (student) to $20 (adult). Tickets can be purchased online at www.losaltosstage.org or by calling the Box Office at 650-941-0551.
Photo: Yuval Amit (Evan), Back Row: Audrey Rechenmacher (Lucy), Logan Kim (Brett), Megan Branstad (Patrice) and Ella Rassmussen (Kendra). Photo by Kathleen Schwartz.