Cowboy Music And Poetry Gathering Announced At Lincoln Theater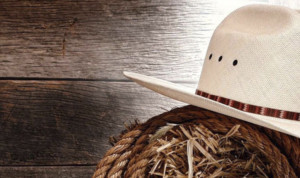 The Lincoln Theater is proud to present the Cowboy Music and Poetry Gathering as musicians, poets, and storytellers regale the audience with their experiences of hard work, heartbreak and hilarity in the West. Part of the new "On the Road" series of the world renowned Elko Cowboy Poetry Gathering, this event embodies the spirit and heart of a uniquely American way of life. In addition to the main performance at the Lincoln Theater on Saturday, September 8th at 7pm, there will also be 2 free school shows the day before for students in Napa and St Helena.
For more than 30 years, the ranchers, cowboys and artists at the Elko Cowboy Poetry Gathering have been sharing poems, stories and music about their lives, celebrating the shared traditions and experiences of the land and culture of the rural West. Elko brings together artisans who share their love of cowboy culture. Declared by journalists as "the most honest and open-hearted festival in America" and described by ranchers as "the highest concentration of lies in any one place at any one time," Elko is the real deal.
With its deep roots in the rural west, and a strong history of ranching and working the land, the Napa Valley is the perfect place for this gathering. Charles Shaw of Two Buck Chuck fame attended the Elko gathering a few years back. After listening to the stories and songs about life on a ranch, he approached Gail Steiger, one of the performers.
"He said, wow, this is just like growing grapes," Gail recounted, "We're all at the mercy of things we can't control, living with uncertainty, praying for rain and worrying about frost and heat waves and such. So that got it started. Pretty soon we were talking to Lincoln Theater about doing a show in the Napa Valley, and we've been coming back ever since."
The connection between Gail and Charles did not end there. "He told me he was going to make me his favorite chili recipe by a guy named J.I. Gardner, and he asked if I'd ever heard of him. Well, as it turns out, I had heard of him. He was my great grandfather. So we really hit it off," Gail remembered with a chuckle.
Lincoln Theater is thrilled to work with the Western Folklife Center to bring the Cowboy Music and Poetry Gathering to our community. Taking the stage this year will be renowned performers and songwriters Gail Steiger, Stephanie Davis, Amy Auker, and Rodney Nelson.
"Whether California, Arizona, Mongolia or Brazil, if you are working close to the ground it doesn't take long to find we have more in common than separates us and that's what Cowboy Music and Poetry is all about," Gail said.
The Cowboy Music and Poetry Gathering will take place on Saturday, September 8 at 7pm at the Lincoln Theater. Tickets can be purchased online at www.lincolntheater.org or by calling the box office at 707-944-9900. Ticket prices are $20 and children's tickets are free.
Related Articles View More San Francisco

Stories

Shows
More Hot Stories For You