BWW Review: Transcendence Theatre's BROADWAY UNDER THE STARS Presents Another Stellar Openin'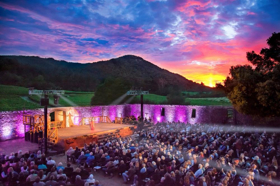 "Every day is a new beginning," wrote Artistic Director Amy Miller, who opened the production with passionate, inspiring words as Transcendence Theatre presented 'Another Openin' Another Show' at Jack London State Historic Park. The incredibly talented and diverse cast comprised of Broadway and Hollywood stars gathered together on one stage to share their magical journey through gorgeous song and dance under the breathtaking canopy of moonlit skies.
The park opens two and a half hours before the show for picnicking with local food trucks, live music, and premium wine tastings from Adastra Wines, Rancho Maria Wines, Kivelstadt Cellars, Bartholomew Winery, Kenwood Vineyards, and Idell Family Vineyards. VIP offerings feature sparkling wines from Jardesca and premium foods from Whole Foods Sonoma. Jardesca was especially refreshing and a perfect pairing with picnicking or garden gatherings. The overall atmosphere is casual but elegant where theatergoers can relax and enjoy all the festivities while taking in the fresh California air and stunning views.
Now celebrating its sixth season, this year's presentation of 'Broadway Under the Stars' offers something for everyone, featuring an eclectic mix of Broadway classics from THE PHANTOM OF THE OPERA, FUNNY GIRL, THE SOUND OF MUSIC, and FIDDLER ON THE ROOF, contemporary show tunes from HAMILTON, BILLY ELLIOT, 9 TO 5 and AVENUE Q, and old standards such as "Lean on Me," "San Francisco," and "Bohemian Rhapsody."
Act One explores the evolution of a dream and Act Two offers the choice to rise up against obstacles, embrace uniqueness, and let go of limitations. Artistic Director Amy Miller passionately assures us that "we're in this together" and humbly honors those who have helped Transcendence Theatre along the way with heartfelt and sincere appreciation.
While the entire cast pours their heart and soul into each song and dance, some standout performances include Stephan Stubbins in "I Dreamed a Dream" from LES MISERABLES and "The Hills Are Alive/Climb Every Mountain" from THE SOUND OF MUSIC, a powerful Natalie Gallo singing "San Francisco," and Meggie Cansler belting "Don't Rain on My Parade." Strong ensemble performances are "Let It Go" from FROZEN with Erin Maya, Meggie Cansler, and Natalie Gallo, "Electricity" from BILLY ELLIOT with men Andrew Hodge, Nick Kepley, and Tim McGarrigal, "Cell Block Tango" from CHICAGO with ladies Amy Miller, Jessica Lee Co man, Lauren Sprague, Meggie Cansler, Sierra Lai Barnett, and Taylor Markarian, and the company in a stellar "Seasons of Love" from RENT. The best performance of the evening, however, can be heard around the valley in "My Shot" from HAMILTON featuring Colin Campbell McAdoo, Eric Jackson, Erin Maya, and Nikko Kimzin, which moved the audience to 'rise up' for a standing ovation.
Spectacular choreography this year by Jim Cooney was turned up several notches from previous seasons which allowed performers to show off their impeccable dance skills, especially in numbers such as "Anything Goes," "Electricity," "Cell Block Tango, "Tradition!" and more. Lighting by Jeffrey Porter highlighted the mood of the evening where everyone was able to individually shine under the breadth of the moonlit skies. Sound Designer Nils Erickson amplified the authenticity of each singer's voice to pierce through the majestic ruins as the live orchestra led by Daniel Weidlein provided the background to make it happen.
This isn't your typical musical revue. 'Broadway Under the Stars' is the culmination of dreams coming to life on stage with talented performers sharing their journey through passionate song and dance. Take the journey with them and be prepared to have the "Best Night Ever."
Transcendence Theatre Company's "Broadway Under the Stars" continues with Another Openin' Another Show through July 2; Fantastical Family Night July 14 & 15; Fascinating Rhythm Aug. 4-20; Gala Celebration Concert Sept. 8-10. Pre-show picnics begin at 5 p.m. Shows begin at 7:30 p.m. Jack London State Historic Park is at 2400 London Ranch Road, Glen Ellen. Tickets are $40-$149 (with $5 of each ticket benefitting Jack London State Historic Park). Call 877-424-1414 or visit BestNightEver.org.
Watch the promo video below!
Featured This Week on Stage Door
Shoutouts, Classes, and More from Your Favorite Broadway Stars