BWW Review: SEASCAPE at American Conservatory Theater is a lighter, more optimistic side of Edward Albee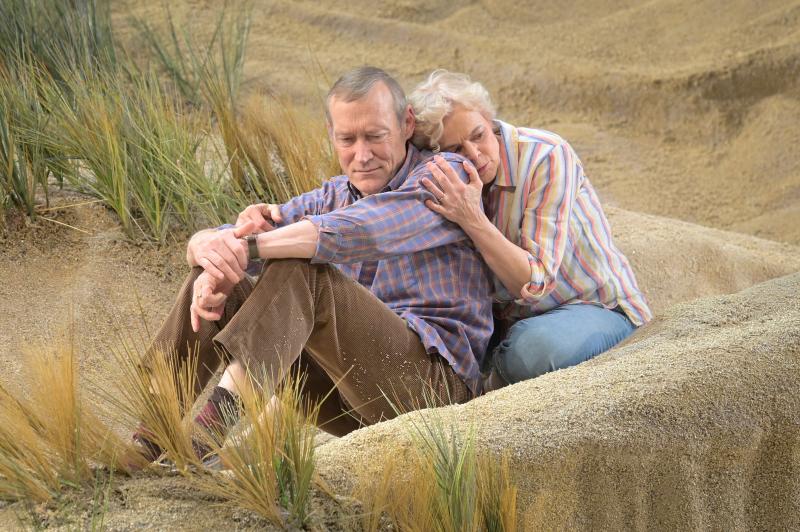 So, a couple of giant, talking lizards walk into a bar...
If your sum impression of the Edward Albee canon is his magnificent Who's Afraid of Virginia Woolf? then Seascape, now at American Conservatory Theater will feel as surprising as the above scenario. True, there are two couples who frequently bicker in ever-changing alliance configurations. True, there is a wee dram of alcohol involved. That's about it though for surface similarities.
Seascape feels more akin to the more absurdist The Goat, or Who is Sylvia? (recently presented to great effect by The Custom Made Theatre Co.) which asks both characters and audiences to suspend disbelief on a significant plot element - in this case, articulate lizards - in the context or exploring relationships, particularly marriages, and their need for re-evaluation.
The set-up is unremarkable in its construct. Nancy (Ellen McLaughlin) and Charlie (James Carpenter) are having a day at the beach. Belying references to their long and happy marriage, her whimsical, questioning nature seems oddly paired with curmudgeonly stubbornness as she attempts and he resists exploring the specific contours of their evolving state of retirement and the landscape of their marriage in general. Toward the end of the first act, the aforementioned lizards, Sarah and Leslie (Sarah Nina Hayon and Seann Gallagher), walk, not into a bar, but onto Charlie and Ellen's dune.
The play bowed on Broadway in 1975 with Albee directing Deborah Kerr and Barry Nelson as the humans and Maureen Anderman as Sarah and Frank Langella, in a Tony-winning performance, as Leslie. It earned the second of three Pulitzers for Albee. Here it marks the A.C.T. directing debut of Pam MacKinnon, made during her inaugural season as artistic director.
It's an odd play within which odd things are alternately noted or taken for granted by the characters. (There was an earlier second act, jettisoned by Albee prior to Broadway, that reportedly took place underwater.) That the lizards speak English and have upper-crust names (after Albee's cats, according to MacKinnon) piques far less curiosity in the humans than the does existence and purpose of Nancy's breasts for the lizards. Much of the comedy derives from similar cross-species exchanges concerning norms of procreation, relationship customs, and abstracts like love and evolution. The (mostly) respectful exchange of questions and answers between individuals of vastly different backgrounds could be a useful model for our present era of focused awareness of multi-cultural ignorance.
It is funny to observe the domestic squabbling and other personality foibles shared by the humans and the lizards, and it is affirming to observe their shared fears. Both are at existential transition points and must negotiate not only whether to change, but how. For Sarah and Leslie, it is a potentially literal evolve-or-die situation.
The top shelf acting company expertly navigates Albee's layered and rangy dialogue thanks to MacKinnon's obvious understanding of the author's perspective and intent. (This is the eleventh Albee title in her career).
Always outstanding, Carpenter (recently stellar in The Resting Place at Magic Theatre and Straight White Men at Marin Theatre Company), continues his skillful refinement of minimalist performance, conveying more in a shrug or arched brow than might be achieved in pages of text. He's the perfect foil and target for McLaughlin's alternating optimistic and pragmatic interrogatory style. Hayon, last on the Geary stage in Sweat, continues to demonstrate both deft comic timing and an appealing, sympathetic stage presence. Gallagher gives Leslie the right dose of macho preening leavened with insecurity, genuine curiosity, and quiet dignity.
The production design is superb. The fantastical hyper-realistic dune designed by David Zinn - wonderfully enhanced by Isabella Bird (lighting) and Brendon Aanes (sound) - is smartly framed in the unadorned physical reality of the Geary proscenium and fly space reality. Zinn is also responsible for the beautifully constructed lizard costumes, that allow Hayon and Gallagher to convincingly span species.
Seascape might be called the kinder and gentler Albee. He is still unrelenting in his exploration of long-term companionship, but he does so with more benevolence than seeming antagonism, letting the characters - and us - hope for the future together.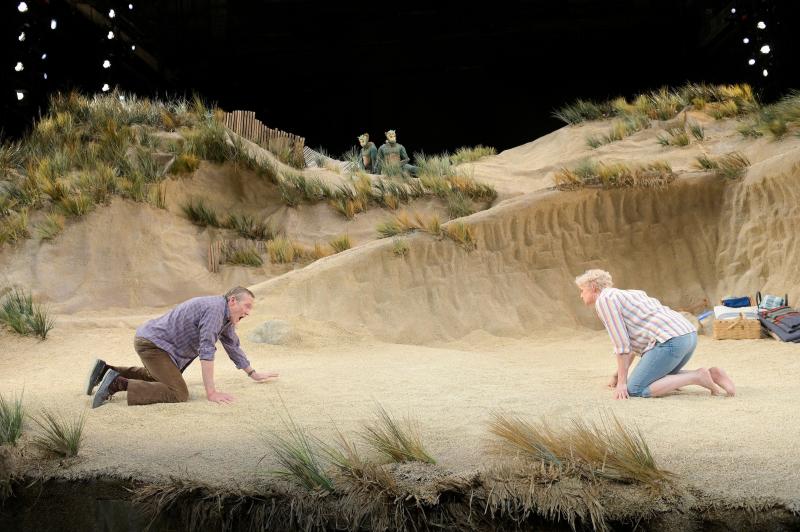 Seascape runs through February 17, 2018
Geary Theater, 405 Geary Street, San Francisco, CA
Tickets: act-sf.org or 415.749.2228
Photos: Kevin Berne
| | | |
| --- | --- | --- |
| | Donations | Arts Orgs |
Related Articles View More San Francisco

Stories

Shows
Robert Sokol is the editor-publisher of BAYSTAGES, the creative director at VIA MEDIA, serves on the executive committee of the American Theatre Critics Association (ATCA), (read more...)