AI WEIWEI: YOURS TRULY To Receive World Premiere At SFIFF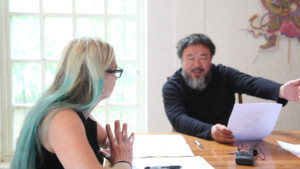 AI WEIWEI: YOURS TRULY, the feature length documentary film directed by Cheryl Haines, has its World Premiere special Marquee Presentation screening during the San Francisco International Film Festival 2019, on Sunday, April 14th, 7:30pm at the Castro Theatre, 429 Castro Street in San Francisco with Ai Weiwei in attendance.
The story of AI WEIWEI: YOURS TRULY begins with the remarkable exhibition @Large: Ai Weiwei on Alcatraz, organized by curator Cheryl Haines. Following Ai Weiwei's detention by the Chinese authorities, the outspoken artist and activist transformed the former island penitentiary with an exhibition that engaged nearly 900,000 visitors in a conversation about human rights and personal freedom. One of these artworks, Yours Truly, invited the public to compose messages to prisoners of conscience around the world. By the time the exhibition ended, over 90,000 postcards had been sent. The film follows these postcards around the globe-from Alcatraz Island to Beijing, Washington, D.C., and Cairo-as former prisoners of conscience and their families discuss their difficult choices and the comfort they took from personal postcards reminding them that they were not forgotten.
Ultimately, the film AI WEIWEI: YOURS TRULY is a call to action through a simple act, extending the reach of Ai Weiwei's art and urgent call for freedom from injustice and oppression as visitors pick up a pen and personalize the core principles of global human rights. AI WEIWEI: YOURS TRULY is a FOR-SITE Foundation production and is available for distribution.
Director Cheryl Haines is the founding executive director and chief curator of the FOR-SITE Foundation. As the curator of @Large: Ai Weiwei on Alcatraz, she was the driving force in securing the location for that landmark exhibition. For over thirty years, Haines has developed exhibitions and site-specific public programs that have exposed new audiences to contemporary art and advanced the discourse on art about place. Cheryl's dynamic curatorial stance presents challenging and provocative exhibitions by artists who explore cultural and environmental issues through a wide range of media, as well as public, site-specific commissions on a national scale.
Established in 2003 by curator Cheryl Haines, the FOR-SITE Foundation is a nonprofit organization dedicated to the creation, understanding, and presentation of art about place. Recent projects encompass commissions, artist residencies, and educational programs, and include the acclaimed exhibitions Sanctuary (2017); Home Land Security (2016); @Large: Ai Weiwei on Alcatraz (2014); International Orange (2012); Presidio Habitats (2010); and a series of land-art installations by Andy Goldsworthy currently on view in the Presidio. Visit for-site.org for more information.

Related Articles View More San Francisco

Stories

Shows
More Hot Stories For You