The Old Globe to Present the Sixth Annual POWERS NEW VOICES FESTIVAL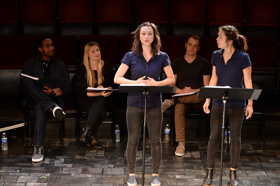 The Old Globe today announced it will present the sixth annual Powers New Voices Festival, a weekend of readings of new American plays by some of the most exciting voices writing for the American theatre today, playing January 18-20, 2019.
The festival kicks off on Friday, January 18 at 7:30 p.m. with Celebrating Community Voices, an evening of work created by San Diego residents through the Globe's arts engagement programs Community Voices and coLAB. These readings include The Last Signal Officer by Max Daily, Not a Game (Working Title) by Eboni Harvey, Boundaries and Barriers by Johnny Lozano, The Best Insurance Company in the World by Renea Minyard, Who's Crazy by Richard Nichols,
3 Days by Maharani Peace, and The Ex Games by Miki Vale. All of the readings will be directed by Karen Ann Daniels and Katherine Harroff. The Community Voices and coLAB initiatives are play-development workshops that provide professional theatre-making skills to select San Diego communities. This evening is a curated collection of some of the best short scripts developed in these programs.
The readings by professional playwrights commence on Saturday, January 19 at 4:00 p.m. with Welcome to Matteson by Inda Craig-Galván (ABC's "The Rookie," Black Super Hero Magic Mama set for a Geffen Playhouse premiere in March 2019), directed by Delicia Turner Sonnenberg (the Globe's Skeleton Crew and the Globe/USD Shiley M.F.A. Program's Romeo and Juliet ). A suburban couple hosts a welcome-to-the-neighborhood dinner party for their new neighbors-a couple forcibly relocated from Chicago's roughest housing project-and it's anything but welcoming. A dark comedy about reverse gentrification and how we deal with the other when the other looks just like us.
It is followed at 7:30 p.m. by The Great Moment by Anna Ziegler (the Globe's The Wanderers and The Last Match; Actually, Photograph 51). As Sarah's grandfather is nearing the end of his life, her son Max is at the beginning of his. Globe favorite Ziegler crafts a poetic meditation on beginnings and endings, birth and age, and the moments of transition that mark our journey from life to death.
The Festival continues on Sunday, January 20 at 4:00 p.m. with Faceless by Selina Fillinger (The Armor Plays: Cinched/Strapped), directed by Jennifer Chambers (world premieres of The Cake, Bed, and Better). Susie Glenn, a white 18-year-old from the Chicago suburbs, was arrested at O'Hare International Airport for conspiring with ISIS. Recent Harvard Law grad and practicing Muslim Claire Fathi has been brought on to prosecute. Inspired by real court cases, Fillinger's crackling drama looks at two women fighting for justice in a world gripped by fear.
The Festival wraps up that evening at 7:30 p.m. with The Thanksgiving Play by award-winning playwright Larissa Fasthorse (Urban Rez, Teaching Disco Square Dancing to Our Elders: A Class Presentation ). In this satirical comedy, four well-intentioned teachers and actors set out to create a politically correct school play that can somehow celebrate both Thanksgiving and Native American Heritage Month. Can they navigate historical fact, cultural representation, and school district regulations to create a play that makes everyone thankful? Either way, the pageant must go on!
"As the Globe presents our sixth Powers New Voices Festival, we are thrilled to celebrate how central it has grown, not only to our work on developing new plays, but also to our audience's excitement about experiencing the birth of great new American writing," said Erna Finci Viterbi Artistic Director Barry Edelstein. "The works we will read this year are inventive, diverse, and vibrantly imagined. The four professional playwrights represented are all women, and their voices bring great excitement to the Globe. They make this Festival an important source of work for our annual season and for other companies in San Diego. Once again this year, these four eminent professional writers will be joined by local playwrights who were inspired and nourished by our Community Voices and coLAB initiatives, parts of our arts engagement work in San Diego neighborhoods. The entire Festival provides a glimpse of the artistic process in action, even as it brings brilliant new theatre to our city. We are grateful to Paula and Brian Powers for their continuing support, which demonstrates their visionary commitment to the future of the American theatre, and to the idea of the Globe as a thriving center of creativity and innovation."
The Powers New Voices Festival 2019 will take place in the Sheryl and Harvey White Theatre, part of the Globe's Conrad Prebys Theatre Center. Tickets to all four readings are free but require reservations. Reservations for donors and subscribers will be available beginning Wednesday, December 19 at 12:00 noon. Reservations for the general public will be available beginning Friday, January 11 at 12:00 noon. Tickets can be reserved by calling the Ticket Office at (619) 234-5623.
Many plays previously featured in the Powers New Voices Festival have gone on to future productions in San Diego and across the country. The Globe's current season includes full productions of the Globe-commissioned JC Lee's What You Are, Laurel Ollstein's They Promised Her the Moon, and PigPen Theatre Co.'s The Tale of Despereaux. The 2017-2018 Globe Season included Anna Ziegler's Globe-commissioned The Wanderers(formerly Arranged) and Karen Zacarías's Native Gardens. The 2016-2017 Season included Nick Gandiello's The Blameless and Dominique Morisseau's Skeleton Crew (which was also presented as part of a limited Globe for All Tour to several of our Community Partners). Anna Ziegler's The Last Match had its world premiere here in 2016, then played Off Broadway at Roundabout Theatre Company. Also in 2016, tokyo fish story by Kimber Lee, a playwright featured in a previous Festival with brownsville song (b-side for tray), and Jiehae Park's peerless, had San Diego premieres at MOXIE Theatre.
In 2016, Paula and Brian Powers provided a sustaining gift to The Old Globe, and in recognition, the Powers New Voices Festival bears their name through 2021. Paula Powers currently is on the Board of Directors of The Old Globe and serves as the organization's Secretary.
The Old Globe's New Voices Play Development Program is supported in part by the National Endowment for the Arts. Special thanks to The Harold and Mimi Steinberg Charitable Trust and The San Diego Foundation for supporting The Old Globe. The Old Globe's Community Voices and coLAB programs are supported by a grant from The James Irvine Foundation.
LOCATION and PARKING INFORMATION: The Old Globe is located in San Diego's Balboa Park at 1363 Old Globe Way. Call (619) 234-5623 or visit www.theoldglobe.org/plan-your-visit/directions--parking/valet-parking. The Balboa Park valet is also available during weekend performances, located in front of the Japanese Friendship Garden. For additional parking information visit www.BalboaPark.org.
Related Articles View More San Diego

Stories

Shows
More Hot Stories For You