Student Blog: An Essential Shakespeare Literature Class
Shakespeare is essential for any theatre major and I highly recommend taking the time to go back to basics with play analysis – especially with this complex language.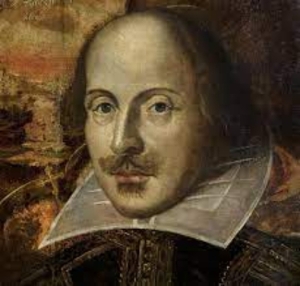 This quarter, I am enrolled in a Shakespeare literature class focused on his plays from the Jacobean period. Our syllabus includes reading plays such as Othello, Measure for Measure, The Tempest, King Lear, and Antony and Cleopatra. For each play, we dissect the essential themes of the play and then look at specific passages that reveal specific aspects of character motives and plot points. While this class is not in the theatre department, I've noticed a lot of dramaturgical approaches to analyzing Shakespeare in this class.
By purely focusing on the textual analysis, it has very much felt that we've solely been doing tablework for each play. Because I want to be more proficient in knowing how to dramaturg for classical plays and specifically Shakespeare, this class has helped me dismantle the stigma and fear of approaching this type of work. Some of the most helpful aspects of the class have been talking about the purpose of certain characters and how those characters can encompass a certain archetype that ties into the main themes of the play. For example, one of the characters we talked about was Angelo in Measure for Measure who takes on a common character profile of the corrupt judge. This is tied to the main theme of the play which is crime and punishment in that Angelo is a power-hungry ruler who wants to exercise the law to the most extreme degree, even though he is a hypocrite and has committed his own wrongdoings. By dissecting the role of Angelo, it helped connect individual characters to the overall arc of the play.
One of my main goals in the next year is to dramaturg a Shakespeare production, but because I haven't spent much time on just the text and language of his writings, this has given me many opportunities to go back to the basics. In learning not just about the play, but the social norms and historical context of what was happening when Shakespeare was writing his plays, I have seen how my professor actually does a lot of dramaturgical thinking and analysis when explaining the concepts to my class. Because of this, I have taken a lot of notes of what is most useful to focus on in terms of context and how to pick and choose the most important pieces of information when reading a specific play. For example, focusing on gender norms at the time was extremely important to understand when reading both Othello and Measure for Measure in that it helped explain why characters such as Desdemona and Isabella are treated as objects, and when characters like Mariana are given agency, it is more radical.
Overall, I have found this literature extremely helpful in expanding my knowledge of Shakespeare and his texts. By not having to worry about a director's vision in addition to understanding the language, I am able to fully focus on the original text's intentions. Then, when I am working on a production, I can give the historical context and then I am able to explain what is being kept and what is being interpreted differently in more modern renditions. These classes are essential for any theatre major and I highly recommend taking the time to go back to basics with play analysis - especially with Shakespearean language.