Dolly Parton's Smash Hit Musical 9 TO 5 Comes to Music Circus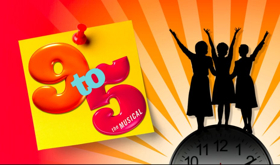 The 67th Music Circus season continues with the hilarious 9 to 5 The Musical, featuring a score by country music legend Dolly Parton. Based on the beloved hit movie, this office place comedy comes to the round stage for the first time in Music Circus history. Performances of 9 to 5 are Tuesday, July 25 through Sunday, July 30th at the Wells Fargo Pavilion.
9 to 5 is a satire following the lives of three office mates who rally against their male chauvinist, tyrannical boss. Cheer for "girl power" as Violet, Judy and Doralee, three underpaid, overlooked and underappreciated secretaries, battle against sexism in the work environment. It's a rib-tickling story of friendship and revenge written by Patricia Resnick coupled with a Tony Award-nominated score by Dolly Parton; songs include "Backwoods Barbie," "Always a Woman," and the Grammy Award-winning title song "9 to 5."
Music Circus favorite Vicki Lewis returns as Violet Newstead in 9 to 5 after appearing at Music Circus in Anything Goes, Funny Girl, Gypsy, Into The Woods and The Little Mermaid; in addition to her Broadway appearances in Chicago and the Tony-nominated revival of Damn Yankees, Lewis has extensive film and television credits. Anne Brummel, making her Music Circus debut as Judy Bernly, appeared recently as Donna Sheridan in Mammia Mia! at Theatre Aspen, after wrapping a six-year journey playing Elphaba in Wicked, both on Broadway and on tour. Tricia Paoluccio will play Doralee Rhodes, adding to her Broadway appearances in Fiddler on the Roof and A View from the Bridge, as well as her television work on "Orange is the New Black" and her recurring role on AMC's "Feed the Beast."
In his 10th Music Circus season, Broadway veteran Paul Schoeffler will play the role of Franklin Hart, Jr.; his previous Music Circus roles range from Henry Higgins in My Fair Lady, to Captain Hook in Peter Pan to King Arthur in Camelot, and his Broadway appearances include roles in the acclaimed recent revival of Sunset Boulevard, Rock of Ages, Sweet Charity, Beauty and the Beast and Cyrano. Kristine Zbornik will be playing the role of Roz Keith, which she performed in the First National Tour of 9 to 5; additionally she has toured in Wicked and appeared on Broadway in A Catered Affair and Mamma Mia!
The cast for 9 to 5 also includes the following ensemble members: Music Circus regular Doug Carfrae, who appeared in last season's production of The Hunchback of Notre Dame and on Broadway in the original production of Music Is; Ixchel Cuellar, a member of the San Francisco Bay Area Theatre Company who appeared in the original Broadway production of Finding Neverland; Michael Dotson back for his 17th season at Music Circus, also seen last summer in The Hunchback of Notre Dame; Meghan Faddis, who recently performed in both Beauty and the Beast and On the Town as part of her debut season at Music Circus; Devon Hadsell, who appeared last season as Florika in The Hunchback of Notre Dame and in previous season's productions of Bye Bye Birdie and Hair; Karissa Harris in her debut performance at Music Circus, who has worked at various regional theatres across the nation including Civic Theatre, Fulton Theatre and Main State Musical theatre; Karen Hyland, who played Lucy Schmeeler in this summer's Music Circus production of On The Town, was in last summer's production of Hello, Dolly! and has appeared on Broadway in Scandalous and Ghost; Music Circus regular Eric Anthony Johnson, who recently appeared in last season's productions of Nice Work if You Can Get It, Hello, Dolly!, Legally Blonde, Cabaret and Seussical as well as in the national touring companies of West Side Story and Miss Saigon; Joe Komara, who appeared on Broadway in the 2007 revival of Grease and on television in "General Hospital," also making his Music Circus debut; Adam Lendermon back for his fourth season with Music Circus, who appeared in last season's productions of Legally Blonde and Hello, Dolly!, off-Broadway in The Anthem and in the national touring productions of Cats and West Side Story; Stephanie Maloney, a Graduate of the University of Michigan who recently toured nationally and internationally in the hit musical Chicago; Dino Nicandros, a theater arts major out of Pepperdine University who appeared in last summer's production of The Hunchback of Notre Dame; California native Dennis O'Bannion, who previously appeared at Music Circus in Big River, among others, and on Broadway in Irving Berlin's White Christmas; Connor Wince returning after performing last season at Music Circus in Legally Blonde and Hello, Dolly!; and Jessica Wockenfuss, who played Adella in the national touring production of The Little Mermaid; she has worked at various well-respected regional theatres including Pittsburg CLO, Kansas City Starlight Theatre and Theatre By The Sea.
9 to 5 will be directed by Glenn Casale, a highly respected figure in international theatre who has directed more than 50 productions for Music Circus and Broadway Sacramento over the past 20 years; his extensive experience includes work on Broadway, off-Broadway and in some of the country's most prestigious regional theatres. Choreographer is Mara Newbery Greer, a veteran performer who has worked on Broadway, national tours and regional theatres across the nation; her choreographic work, to name a few, includes Thoroughly Modern Millie at Music Theatre Wichita, The Toxic Avenger at Pittsburg CLO, Shrek The Musical at North Shore Musical Theatre, in addition to choreographing the 2016 Music Circus production of Legally Blonde. Musical Director Jeff Rizzo conducted last summer's production of Cabaret, has more than 80 Music Circus productions under his belt and travels the world conducting tours; his work as a prolific composer includes the scores for Jailbirds on Broadway and Wanna Play?!
Tickets for 9 to 5 start at $45 and are available by phone at (916) 557-1999, online at www.tickets.com, or in person at the Wells Fargo Pavilion Box Office, 1419 H Street in Sacramento. Evening performances are Tuesday through Saturday, July 25 - 29, at 7:30p.m.; matinee performances are Thursday, July 27 and Saturday, July 29 at 2:00 p.m. and Sunday, July 30 at 3:00 p.m. For more information, visit www.SacramentoMusicCircus.com.
Music Circus is produced under the leadership of Producing Artistic Director/COO Scott Klier and Artistic Consultant Glenn Casale. California Musical Theatre President/CEO is Richard Lewis.