Click Here to Visit the College Center

Blogs are the opinions of the authors and do not necessarily reflect the opinions of BroadwayWorld. BroadwayWorld believes in providing a platform for open and constructive conversation.

Student Blog: My Experience Performing in Immersive Theatre
What's it like to perform in an immersive theatre production during a pandemic?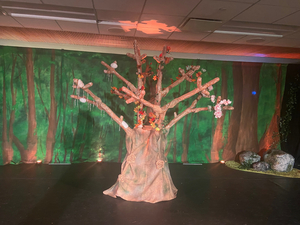 I've had the pleasure of being a part of the Tilles Center for the Performing Arts' original production, Branching Out, during my winter break. Branching Out is a theatrical experience designed for audiences on the Autism Spectrum that has been in development since August 2019. It's been a pleasure to perform this show for various schools and public audiences of all ages.
The show is about the changing of the seasons and takes our audience on a journey by engaging them in various sensory experiences. Our performance space includes an area on the ground for audience members to sit as close to our actors as they'd like. Everyone is encouraged to participate and be a part of the show by feeling icy, cold pieces of winter, smelling the flowers of spring, catching fireflies in summer, and stepping on the crunchy leaves of autumn, among many other experiences.
But how is this kind of theatrical experience possible during the age of Covid-19?
Our rehearsal and performance process has included various Covid tests, as well as each actor staying masked throughout shows in our clear face and mouth shields to show our smiles and friendly faces. We weren't sure if performing in January would be possible due to the spread of the Omicron variant this winter and the amount of theaters that have shut down. However, we had six sold-out shows! We've kept audiences to small groups at a time, allowing us to personalize each show for the audience we have. One way we achieve that is through our "Welcome" song, where we introduce ourselves and address each student by their name.
Branching Out has been such an exciting experience to be a part of! In my role as a "Nature Guide," I spend a lot of time with our audiences. During the show, I encourage them to participate in the show and interact with me and my fellow actors. Each audience we've worked with has been different, and I've learned so much from them since they each bring a unique experience. As an actor, it's helped me improve my improvisation skills and taught me to go with the flow for each performance since certain factors can be unpredictable at times.
Being a part of a production that brings theatre to neuro-diverse audiences has taught me so much. The Tilles Center has been offering these types of programs since 2015, and Branching Out has been their first in-house production. A team of teaching artists at the Tilles Center and those at partnering K-12 schools created the show together. The script was first developed in the summer of 2019, began workshopping pre Covid-19 in 2020, and has finally become a fleshed out production this year!
The artists who developed the show were also advised by Long Island University's special education faculty. They came to rehearsals and workshops to coach the artists through the nuances of working with neuro-diverse audiences. Throughout the two years of developing the production and the pandemic, there has been casting and recasting. LIU's theatre department allowed Musical Theatre students like myself to be a part of the production!
The biggest takeaway I gained from this experience was how necessary this kind of work is. According to the CDC, in 2021 approximately 1 in 44 children in the U.S. were diagnosed with an Autism Spectrum Disorder (ASD). Since it's not always possible for individuals with ASD to sit quietly in traditional theatre settings, immersive theatre is able to provide experiences for all kinds of audiences. We've been adamant in calling our production a "non-shushing show," so that each audience member is free and encouraged to get up and vocalize throughout our show as necessary.
Stephanie Turner, the Director of Education and Outreach at the Tilles Center has been our amazing director and fearless leader throughout this process, and she has been a part of Branching Out since day one. She said, "Our goal from the beginning has been to create a quality, joyful experience that serves every kind of audience member- from a neuro-diverse 5-year old to a neuro-typical grandparent and everyone in between." From the process of writing the script (which is entirely in verse), to workshopping the show at different schools, to finally bringing it to life this past month for various audiences, I'd like to think we were able to achieve that goal.
Overall, I'm so grateful to have been a part of a production that brought so much joy to others, and I can't wait to see how Branching Out will impact others in the future!