BWW Review: LAKE STREET DIVE: FREE YOURSELF UP at Veterans Auditorium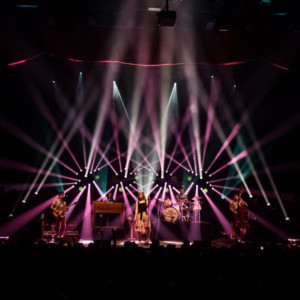 Sunday evening your intrepid correspondent headed to Veterans Auditorium to catch a band called LAKE STREET DIVE. I had seen the group perform on Colbert twice and thought, "Well, that's pretty interesting." So when I heard they were coming to the Veterans Auditorium in Providence, I decided to go. The last time I went to a "rock" concert was probably Country Joe and the Fish at Rhodes on the Pawtuxet in the early seventies. I went to Woodstock but do not remember much about it. If you are of a certain age and decide to go to a concert these days, be forewarned-the protocol has changed. No more waiting two hours for The Lovin' Spoonful to show up, nosiree. The concert was scheduled to start at seven and went off at seven. My wife and I wondered where everyone was; it turns out at least half the audience skipped the opening act, and the place didn't fill up until the headliners showed up at eight. I was not disappointed by this concert-they had the sold out house with them from jump street.
So who is LAKE STREET DIVE? The call themselves a "multigenre" band that was founded in 2004 in Boston, influenced by late sixties-early seventies R&B, AM pop, and FM rock, with lyrics informed more by contemporary events. The band's original members are Rachael Price (lead vocals), Mike "McDuck" Olson (trumpet, guitar), Bridget Kearney (upright bass), and Mike Calabrese (drums). Akie Bermiss (keyboards) joined the band on tour in 2017 and is on their 2018 album, Free Yourself Up. It was more than "pretty interesting"; this show was awesome. What I can tell you is that their show was both visually and audibly compelling. Cole Porter said that Ethel Merman had a voice like a "brass band going by." Same for Rachael Price. She almost never stops moving, dancing to the music, and her voice fills the hall. She is a force.
Challenging Price for attention are Bridget Kearney and her upright bass. Have you ever seen an upright bass in a rock (or "multigenre") band. Kearney is so adept at the bass you cannot take your eyes off her either. Challenging those two are Mike Calabrese and his drum solos: he was a virtuoso, and the way his solo was lit was gorgeous. He was encased and beams of light would appear to shoot off his drumsticks toward the audience. It was easier to overlook Olson on guitar, but his trumpet solos were certainly riveting. The same for Akie Bermiss on the keyboards: he was easy to miss until he had his solo.
Those who did show up late missed Jason N'Gonda, a singer guitarist backed by a drummer and bass. He weighs about a hundred and fifty pounds and most of it is charisma. I thought the set could have been quieter, but he had a sweet voice and was very engaging.
LAKE STREET DIVE continues its tour of the Northeast with shows from New York to Boston, from this evening through New Years. For more information, go to http://www.lakestreetdive.com. If you can get a ticket, go.