Fertile Ground Reviews: PHILIP'S GLASS MENAGERIE, ROSA RED, PERSEPHONE XOA IRIS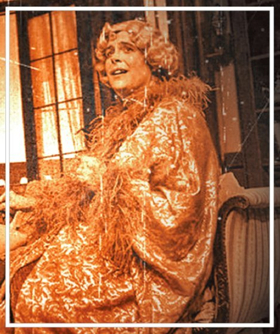 Fertile Ground 2018 is in full swing. And, based on what I've seen so far, this is the best year yet! Here are three of the shows I saw opening weekend.
PHILIP'S GLASS MENAGERIE [Workshop]
What I'm about to describe will sound a little strange. Stick with me.
The way Philip Cuomo, CoHo Productions' artistic director, tells it, several years ago when they were rehearsing The Mystery of Irma Vep, Isaac Lamb started fooling around with a Southern accent. At that moment, Cuomo had an epiphany, saying to Lamb, "Someday, you need to play Amanda Wingfield," thus planting the seed for PHILIP'S GLASS MENAGERIE.
The show combines several elements that don't on the surface seem to go together: Tennessee Williams, clowning, and drag. But, somehow, these strange bedfellows work in concert beautifully.
PHILIP'S GLASS MENAGERIE tells Williams' classic story, but without what one might consider the most important part (or at least a central part) of any play: the script. Cuomo has stripped the script down to somewhere around 100 or 120 words, instead conveying the action through clowning and silent film performance techniques. The result is a version of the play distilled down to its essence, combined with over-the-top comedic elements that serve to make the play's painful emotion even more poignant. This is all accomplished by a highly skilled cast of clowns - Isaac Lamb as Amanda, Murri Lazaroff-Babin as Tom, Sascha Blocker as Laura, and Emily Newton as Gentleman Caller - half of whom, you may have noticed, are also in drag.
Yes, it sounds strange! But I can't tell you how surprised I was at how well the production captured the themes and emotions at the center of The Glass Menagerie. I've spoken to several people who've seen it, and they all said the same thing.
PHILIP'S GLASS MENAGERIE is a work in progress, though it seemed fairly complete to me! You don't need to be familiar with The Glass Menagerie to enjoy it, but you'll probably get more out of it if you are. There are three more shows during the festival: Jan 25, 26, 27 @ 7:30pm. Tickets and details here.
ROSA RED [Staged reading]
The Broken Planetarium is an arts collective that creates and supports new works. Every year, one of those works is a folk musical written by Laura Christine Dunn.
This year, the show is ROSA RED about the life of Rosa Luxemburg, a prominent feminist and revolutionary socialist who migrated from Russia to Germany, where she lived before and during World War I. In 1916, Luxemburg was put in prison, where she stayed for 2½ years. Shortly after being released, she was executed.
As their source material, Dunn used Luxemburg's letters from prison to her best friend, Sophie Liebknecht, who was married to Karl Liebknecht, Rosa's partner in revolutionary activity. Sophie's letters back aren't extant, so Dunn imagined them, weaving a story of two interconnected, but vastly different lives, through which they explore themes of progress, social change, and the various roles women play.
The story and the script are very well crafted. The soulful, plaintive music is played on a variety of stringed instruments, including a cello, a banjo, a mandolin, and one small mandolin-type instrument I'd never seen before.
Since this was a staged reading, it was just the skeleton of the full show, which will run at the Clinton Street Theatre for two weekend in May. I'm very much looking forward to seeing it.
If you'd like to be in the show, auditions will be Sunday, February 4, and Wednesday, February 7, at Taborspace. Dunn says they're looking for actors, dancers, and members of the crew. There are two more opportunities to see ROSA RED at Fertile Ground: Jan 24, 25 @ 8pm. More details and tickets here.
PERSEPHONE XOA IRIS [Fully staged world premiere]
Finally, PERSEPHONE XOA IRIS is a three-part show written and performed by storyteller Gretchen Peterson. This one-woman show reaches all the way from classical antiquity to modern times.
The first story re-imagines the Greek myth of Persephone, a goddess who lives a divided life - half of the year on earth with her mother, and half of the year in the underworld with her husband, Hades. What's missing from Persephone's traditional story is anything for herself. Peterson gives her this in the form of a lover, Xoa, the goddess of women who love women. The second story belongs to Xoa, who tells of meeting Persephone and of collecting and writing down all of the previously uncatalogued stories of lesbians through the ages. Finally, Iris Eldinger is a modern superhero of the comic book variety, who frees the hearts of women who love women.
Both individually and together, Peterson's powerful stories explore the importance of finding your voice and living your truest life. This show runs five more times: Jan 23, 24, 25, 26 @ 7pm. More details and tickets here.