BWW Review: Portland Center Stage Season Ends on a Very High Note with LADY DAY AT EMERSON'S BAR AND GRILL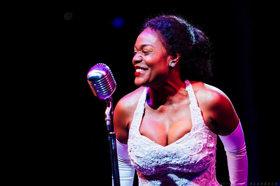 In a season with many great shows, this one took the cake for me. Packed with great music and featuring an incredible performance by Deidrie Henry as Billie Holiday, LADY DAY AT EMERSON'S BAR AND GRILL is an absolute must-see.
The marketing material for LADY DAY bills the show as "an all-access pass to Billie Holiday's final concert." It took less than a minute for me to realize that I had no idea what that actually meant. I knew Billie Holiday's voice and had heard her music, but prior to seeing this play/concert, I knew nothing about Billie Holiday herself or about the struggles she faced.
The setting is club in Philadelphia in 1959, just months before she died of causes related to excessive drinking and drug use. Needless to say, she's not at her best -- not only is she suffering from cirrhosis, but her career has gone downhill fast. Now she's back in Philadelphia, which is where she was born, singing in a club that's a far cry from Carnegie Hall. The performance she gives is part concert, part confessional. It traces her life -- from her cruel childhood through her abusive personal relationships, multiple arrests, and drug and alcohol abuse -- through story, humor, and music. She also provides a glimpse into the brutal racism she encountered, especially in the South, during the time of Jim Crow. This is a powerful, and often devastating, piece of theatre.
But the devastation isn't the whole story. LADY DAY has an unmistakable feeling of triumph. The credit for that goes to Deidrie Henry, who gives a dynamite performance as Holiday. As she began to sing, Portland Center Stage melted away and I was sitting in that club in Philadelphia watching the final performance of one of the greatest jazz musicians of all time.
LADY DAY AT EMERSON'S BAR AND GRILL runs through July 1. More details and tickets here.
Photo credit: Patrick Weishampel/blankeye.tv