Review: Fertile Ground: WITCH HUNT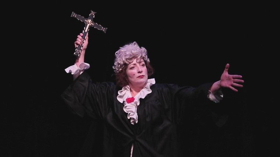 I'm officially a clown convert.
Last year around this time, I wasn't so sure. I still had some lingering unease from that time when my three-year-old self ran screaming out of a performance by J.P. Patches and Gertrude.
But then I saw PHILIP'S GLASS MENAGERIE, by the CoHo Clown CoHort, at last year's Fertile Ground Festival and discovered that not all clown performances are specifically designed to terrify small children.
This year's CoHort offering, WITCH HUNT (featuring Sascha Blocker, Jeff Desautels, Amica Hunter, Emily Newton, and Maureen Porter), draws on Arthur Miller's The Crucible, along with the McCarthy hearings, the Federalist papers, the Puritan work ethic, and current events, to explore our cultural obsession with finger-pointing. I didn't get all of the references, but that didn't affect my enjoyment of the piece (though I would recommend at least a passing acquaintance with the Salem witch trials).
WITCH HUNT uses humor not only to entertain, but also to reveal the absurdity of some of the traditional values that have continued to shape our society. One of my favorite scenes featured Jeff Desautels pouring water back and forth between buckets while singing about how much God loves work. It wasn't just an expression of the Puritan work ethic, but also a rebuke of our current societal veneration of busyness.
Otherwise, Emily Newton stole the show. Her performance style is comparatively subtle, but so polished that she has merely to walk on stage to elicit laughter. Every scene she's in is comedic gold.
Overall, I enjoyed WITCH HUNT very much, and I look forward to seeing how this piece continues to develop on its way to a full premiere at this year's CoHo Summerfest.
WITCH HUNT runs through this weekend: Jan 24, 25, 26 @ 7:30pm; Jan 26, 27 @ 2pm. More details and tickets here.