BWW Review: Artists Rep's MAGELLANICA: A Journey to Antarctica in Search of Scientific and Existential Truths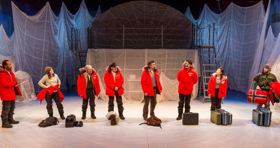 In physics (we learn in MAGELLANICA), there's something called a "theory of everything." This is a single theory -- as of now, still hypothetical -- that brings together the two main theories of modern physics: general relativity, a framework for understanding things that are very large (like galaxies), and quantum field theory, a framework for understanding things that are very small (like molecules).
E.M. Lewis's MAGELLANICA, a world premiere now playing at Artists Repertory Theatre, is the theatrical equivalent of a theory of everything. This epic play about eight people wintering over at the South Pole Research Station in 1986 moves between the macroscopic and the microscopic, using global issues like the hole in the ozone layer to probe geopolitical and interpersonal relationships, while at the same time using those relationships to expand our understanding of the universe.
If you're thinking, "wow," then you're starting to get the idea. MAGELLANICA is about our isolation and our interconnectedness, as individuals and as a people. In terms of our place in the cosmos and on the space-time continuum, we're inconsequential. At the same time, when we come together and engage with one another, we can make a massive impact -- for bad and for good.
Okay, back to earth. MAGELLANICA is a five-part play about eight strangers who spend 8½ months in close quarters in Antarctica. While fictional, it's loosely based on an actual 1986 expedition led by American climatologist Susan Solomon, who was investigating the cause of the newly discovered hole in the ozone layer.
All of the characters in MAGELLANICA are there for a reason because "no one goes to Antarctica accidentally," as the play's first line tells us. Dr. Morgan Halsted (played by Sara Hennessy) is, like Solomon, an American climatologist there to confirm that CFCs are causing the hole in the sky. Dr. Vadik Chapayev (Michael Mendelson) is a Russian climatologist there to prove that there is no hole in the sky. Dr. May Zhou (Barbie Wu) studies the Southern Lights, Dr. William Huffington (Joshua J. Weinstein) studies the movement of glaciers, Dr. Lars Brotten (Eric Pargac) studies penguins, and Dr. Todor Kozlek (Allen Nause, my personal favorite) wants to draw a new and accurate map of the world. Leading the team is U.S. Army Captain Adam Burrell (Vin Shambry) and his assistant, Freddie de la Rosa (John San Nicolas).
Of course, they're all there for other reasons too -- like healing from something in their past, proving their worth, or coming to terms with who they are. This is the microscopic that influences, and is influenced by, the macroscopic. The result is an intense and heartbreaking journey toward the discovery of how much we need one another.
The expansive world that E.M. Lewis so expertly creates is magnified by Stephanie Kerley Schwartz's magnificent set and Carl Faber's beautiful lighting design. The theatre is also kept unusually cold -- to keep the actors from suffering in their long underwear and heavy parkas -- which adds immeasurably to the feeling of being in Antarctica. Bring a coat!
I've described MAGELLANICA as being a five-part epic. So, you may have gotten the idea that the play is long. You're absolutely right -- it's 5½ hours. But there are four intermissions, including a 30-minute dinner break after Part 3. I know you've binge-watched Netflix for longer than 5½ hours, so think of it like that, but live! As with the temperature in the theatre, the length adds to the immersive quality -- and the play is so good that you won't even notice time passing.
In my opinion, MAGELLANICA is the most exciting show of the 2017-2018 season (and, yes, I know Hamilton will be here in a few weeks). It's more than a play; it's an event (one that was profiled in The New Yorker, no less). And it's one I feel privileged to have been able to experience. Because of the scale, there are only 18 performances, now through February 18. I highly recommend you find a day, clear your schedule, and experience it for yourself. More details and tickets here.
Photo credit: Russell J. Young