Tamara Tunie and Laurie Klatscher Star in THE ROOMMATE By Jen Silverman at City Theatre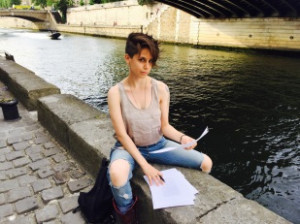 City Theatre will welcome Tamara Tunie and Laurie Klatscher to the City Theatre stage this spring to bring the unlikely plans in Jen Silverman's play The Roommate to life. It is directed by City Theatre's Artistic Producer, Reginald L. Douglas, and will run on the City Theatre Main Stage, March 2 - 24, 2019. Tickets are on sale now.
"I am so pleased to be continuing my relationship with City Theatre by joining the cast of The Roommate," said Ms. Tunie. "I had a "taste" of City when I did my holiday cabaret, LEGENDS FROM THE BURGH, at the theater in 2016. Now I am looking forward to the "meal" we are going to make of The Roommate!"
Tamara Tunie is a proud Pittsburgher, and delighted to be returning to City Theatre. Born at McKeesport Hospital in Allegheny County, Pennsylvania, Ms. Tunie grew up in Homestead, only a few blocks from The United States Steel Corporation; originally the Homestead Steel Works. Homestead Steel was acquired by Andrew Carnegie in 1883, thus becoming a part of the Carnegie Steel Company. In 1901, Carnegie Steel was purchased along with Federal Steel Company and National Steel Company to form US Steel. Ms. Tunie likes to say she was "forged by the fire" of this blue-collar city, which instilled in her a work ethic and sense of dedication to community that she applies to all she does. Graduating with honors from Steel Valley High School, she then was selected to enter Carnegie-Mellon University's School of Fine Arts in the Musical Theater Program. After a rigorous four years, with her BFA in Musical Theater in hand, she headed to New York to pursue her dreams. Ms. Tunie was very proud to star in Fences in "August Wilson's 20th Century Cycle" at the Kennedy Center, in Washington, D.C, and also to produce Mr. Wilson's Tony nominated Radio Golf on Broadway. Her other credits include: Obie Award Familiar. Berkshire Theatre Award American Son. Broadway: Julius Caesar, Dreamgirls, Oh, Kay!, Lena Horne: The Lady and Her Music. Off-Broadway: BUILDING THE WALL, The Library (Public Theater), Troilus and Cressida (Delacourt), Sheba, Loose Knit. Regional: Cat on a Hot Tin Roof, Les Liaisons Dangereuse, Tartuffe, Antony and Cleopatra, All's Well That Ends Well, Two Gents. Film: Flight, Snake Eyes, The Devil's Advocate, Wall Street, City Hall, Eve's Bayou, Caveman's Valentine, Fall to Rise, Bad Vegan. Television: "DIETLAND", Black Earth Rising", "Law & Order: SVU," "The Red Road", "Better Call Saul", " Blue Bloods", "Elementary," "Billions," "24," "Alpha House," "The Good Wife," "Zoo", "Survivor's Remorse", "As the World Turns," and many more. Producer: Spring Awakening (Tony Award), Magic/Bird, and Frog Kiss (VSC). The Dutchman (Cherry Lane Theater). Director: SEE YOU IN SEPTEMBER, JAZZLAND. With all of her success, Ms. Tunie has NEVER forgotten her Pittsburgh roots, and continues to have a close relationship with Carnegie-Mellon, serves on the Advisory Board of The Center for Military Medical Research, and will be joining the Board of Directors of City Theatre in 2019. She is a rabid STEELERS fan.
Laurie Klatscher, a Pittsburgh favorite, is no stranger to City Theatre's stage. This marks Ms. Klatscher's 13th play at City, and her second show this year with Tamara Tunie ("The Tempest", Pittsburgh Public Theater).
"I'm really pleased to be part of this season with the return of Marc Masterson and with the return of Tamara Tunie to her hometown, Pittsburgh" said Ms. Klatscher. "Marc, Tamara and I worked together with the Park Players back in the day. Tamara was a high school intern at the time, but was impressive even then! This is a happy reunion."
Ms. Klatscher's other City credits include: Tribes (co-production Philadelphia Theatre Co); and premiers of Precious Little (2011 PPG Performer of the Year), Compleat Female Stage Beauty, and Red Herring. Other world premieres: Quantum: Inside Passage, Chickens in the Yard, Electric Baby and Dogface (Festival de Otono, Madrid). Playhouse REP: Endless Lawns, Lost Boy Found in Whole Foods. Recent TV: Emelye, the elder high priestess on "Outsiders" (22 episodes) and the web series "[Blank] my life".
"It's going to be a blast digging into The Roommate," said Ms. Klatscher. "How often does a play come along where the two central characters are older women? And women with real vitality and life altering decisions to make that aren't centered around a husband or child or grandchild? What playwright Jen Silverman gets (along with how to mine wicked humor and real, human connection) is the fact that middle age is not a settled time for most women; it's transformative. It's like adolescence, but with life experience in the mix and a sense of "If not now, when?" Plus I get to be badass. And work with Tamara Tunie. At City Theatre. With Reg Douglas directing. What's not to like?"
About The Roommate:
Retired and recently divorced, Sharon needs a roommate for a little extra cash and some much-needed company in her Iowa home. When new-age New Yorker Robyn moves into the spare room, the pair of unlikely pals bond in this laugh-out-loud play about leaning into friendship, new beginnings, and maybe just a touch of breaking the law.
The Roommate is directed by Reginald L. Douglas. The cast includes Laurie Klatscher (Robyn) and Tamara Tunie (Sharon). The production team includes Tony Ferrieri (scenic design), Andrew David Ostrowski (lighting design), Gina Cercone (costume design), Elizabeth Atkinson (sound design), Clare Drobot (dramaturg), and Patti Kelly is Production Stage Manager.
About Jen Silverman: Jen Silverman is a resident playwright at New Dramatists. Her work has been produced Off-Broadway, internationally, and regionally, and includes the plays Collective Rage: A Play in 5 Betties, The Moors, and Dangerous House, which premiered last summer at Williamstown Theatre Festival.
Related Articles View More Pittsburgh

Stories

Shows
More Hot Stories For You