TheaterWorks Closes 33rd Season with THE MARVELOUS WONDERETTES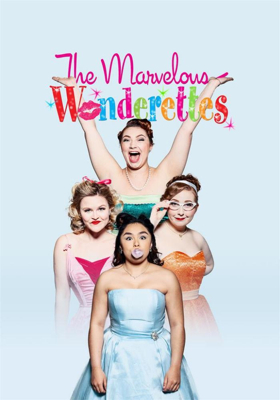 TheaterWorks completes the 2018-2019 Season with a musical blast from the past. The Marvelous Wonderettes is on stage in the Gyder Theater March 29 through April 14 at the Peoria Center for the Performing Arts.
The setting is 1958 at Springfield High School and Betty Jean, Cindy Lou, Missy and Suzy are hosting their senior prom. We learn about their lives, loves and secrets while they serenade the audience with famous pop songs from the 50's and 60's like "Stupid Cupid", "Lollipop" and "Mr. Sandman". In Act two, the girls reunite ten years later to host their High School Reunion. We learn about how their lives turned out, their trials and tribulations and how they overcame struggles they faced. This upbeat, musical comedy will leave the entire audience walking out of the theater with a smile on their face and a classic pop song stuck in their head. If you liked last season's Forever Plaid, you will love The Marvelous Wonderettes!
The Marvelous Wonderettes is directed by renowned, Valley director and choreographer, Molly Lajoie. Lajoie knows this show will be relatable no matter who you are. She says, "Marvelous women. Marvelous friends. Marvelous Wonderettes. Are you a "Missy", "Cindy Lou", "Suzy", " Betty Jean" or a combination of all of them? I know who I am, but join us for some fun and laughs and discover who you are!"
The Marvelous Wonderettes was Written and Created by Roger Bean, Musical Arrangements by Brian William Baker, Orchestrations by Michael Borth, Vocal Arrangements by Roger Bean & Brian William Baker. Presented by special arrangement with Stage Rights (www.stagerights.com).
Tickets for The Marvelous Wonderettes are now on sale. General admission tickets are $38.00 with senior and student discounts available. The production takes place in the Gyder Theater of the Peoria Center for the Performing Arts (10580 N. 83rd Dr. , Peoria, AZ 85345). To purchase tickets or find out more about TheaterWorks or the upcoming summer season, contact the Box Office at (623) 815.7930 or visit www.theaterworks.org.
Theater Works at the Peoria Center for the Performing Arts is concluding its 33rd season of providing exceptional theater to the West Valley. Theater Works is a non-profit 501(c)(3) organization whose mission is to provide opportunities for children, patrons and artists to experience theater that inspires, enriches and enlightens through the experience of the performing arts. Theater Works acts as the managing tenant for the Peoria Center for the Performing Arts which features more than 200 events a year including: live theater, classical concerts, jazz, popular music, dance, comedy, cultural events, festivals, youth and adult education classes and much more. For more information, call 623.815.7930 or visit www.theaterworks.org.