BWW Interview: Jennifer Gantwerker of THE PLEDGE at Brelby Theatre Company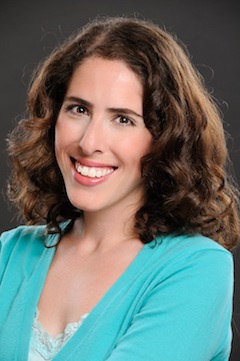 Jennifer Gantwerker is an Illinois native. She told me she made her theatrical debut at age eight in a summer camp production of Prejudice is an Ugly Color. "There was definitely face paint and a candlelit performance of Imagine," she said. She went on to graduate from the University of Southern California with degrees in Theater and International Relations. Having spent four years arguing cases for the nationally-competitive USC Mock Trial team, she said she "ultimately decided to follow the career path that guaranteed her the smallest income."
Since moving to Arizona from Connecticut in 2013, Jen has performed with local theatre companies including Class 6 Theatre, Brelby Theatre Company, and Southwest Shakespeare Company (SSC). She said some of her favorite roles have been Christmas Past in A Christmas Carol at SSC and Lady M in Brelby's production of Macbeth. She also appears in several ongoing shows with Murder and a Meal Dinner Theatre and is a member of The Cosmonauts sketch comedy troupe. A member of SAG-AFTRA, she is represented for film and television by Dani's Agency, and recently played a lead role in the short film Know the Shot.
When she's not acting, Jen works as a teaching artist at Childsplay, bringing drama into classrooms throughout the Valley, and is the theatre teacher at Bella Vista College Prep in Scottsdale. She also teaches yoga, and said she "makes delicious homemade burritos, and is responsible for the lives of one plant and one cat."
I caught up with Jen after a day we were both mid-way through teaching week long Hogwarts workshops at Childsplay last week. One of a handful of "guru teaching artists" at the academy, Jen mentors those of us new to the program. Childsplay's pedagogic construct is unique and specific, and even the most seasoned teachers need help navigating the program in the beginning. It is a rigorous, wall-to-wall schedule, and I cannot fathom how Jen and the other gurus have time to do their extra work in addition to keeping up with their own teaching AND rehearsing and performing in outside projects.
With no time for an email interview, Jen sat down with me to record this video. The sound isn't great - we were in a large classroom with an air conditioner blasting and children in the next room and people coming and going. But there is no mistaking Jen's infectious joie de vivre and expertise in the field.
She shared with me details about her vast and varied teaching for Childsplay, as well as her current project at Brelby Theatre Company. She opens in Megan O'Connor's The Pledge on June 16, 2017 at 7:30pm. The production is directed by Brian Maticic.
Look for my review of the show next week.