Jeanmarie Simpson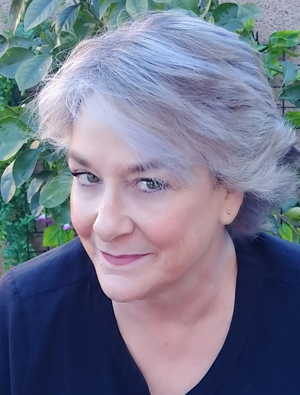 Jeanmarie (Simpson) Bishop has been a BWW contributor in Tucson, Reno/Sacramento, and Toronto, Las Vegas and Phoenix, where she is artistic director of Arizona Theatre Matters, a radically inclusive theatre company. She performed dozens of roles in regional theatre and stock in the US and Canada and began directing while still in her teens. Jeanmarie is Founding Artistic Director of the Nevada Shakespeare Company (NSC), from which she retired in 2008. With NSC she directed many projects, wrote original works and played myriad parts including Maud Gonne in Sailing to Byzantium, Gertrude in Hamlet, Lady M in Macbeth and Elsa in The Road to Mecca, directed by Zakes Mokae. Jeanmarie wrote and performed thousands of times (including a run Off-Broadway) the play A Single Woman, about the life of first US Congresswoman and lifelong pacifist, Jeannette Rankin. She also starred in the film version that featured Judd Nelson, the voices of Martin Sheen, Peter Coyote and Patricia Arquette and the music of Joni Mitchell. In 2007, she appeared at the historic Beverly Hills Theatre 40 in the American premiere of the solo tour-de-force Shakespeare's Will, produced by Leonard Nimoy. Jeanmarie co-adapted a stage version of Powder: writing by women in the ranks from Vietnam to Iraq. Coming In Hot opened at Tucson's Rhythm Industry Performance Factory in September 2009. Simpson began an international tour of Coming In Hot in March of 2010, taking it throughout the United States, Canada, and Europe. She was commissioned by the Be the Change project to create a piece based on interviews with Dreamers; Liberty's Children premiered at the Potentialist Workshop in Reno, Nevada in March 2014. She toured with her original solo performance work, HERETIC - The Mary Dyer Story, from 2011-2019. The piece explores the life and struggles of Quaker martyr, Mary Dyer, hanged in Boston in 1660. She is a member of the Dramatists Guild of America and the Stage Directors and Choreographer's Society and a retired member of Actors' Equity Association, Screen Actors Guild/AFTRA. Contact her through her website: jeanmariesimpson.wordpress.com.
---
BWW Review: THINGS I KNOW TO BE TRUE at A Public Fit

April 3, 2022

Andrew Bovell's Things I Know to Be True at A Public Fit is staggeringly theatrical, exquisitely staged, and a joy to experience. 
---
BWW Feature: CODY DULL and Stage Left Productions

April 27, 2021

Stage Left was founded in 2016. It's first production was 'Exit Laughing' the show opened in May of 2016. Stage Left's first home was Ventana Lakes Yacht Club in Sun City where it performed for two years, then Stage Left also partnered with Paradise RV resort Ballroom. In 2018 Stage Left signed a lease and began construction on its current location in the Bell Mar Plaza. The first show to open in its new space was an Arizona Premiere of Steve Martin's Musical 'Bright Star' in May of 2019 Since its inception stage left has produced 41 productions both adult and kids. We have served 15000 patrons have worked with over 500 actors and crew and has performed almost 300 performances. This year's holiday show 'Tuna Christmas' will be stage left's 50th production.
---
BWW Review: SLAUGHTER BROTHERS DIME CIRCUS - A Radio Fantasy at Baby Monster Productions

January 18, 2021

Equal parts Bugs Bunny and Guillermo del Toro, THE SLAUGHTER BROTHERS DIME CIRCUS - A RADIO FANTASY is a meta-theatrical reflection on the nature of power and revenge. A highly theatrical blend of low-end carnival, violent vaudeville, clowns with issues, and insectoid horror, elevated by original music by Sullivan and Matthew Reid that can best be described as the unholy spawn of ironic German cabaret, swampy rhythm and blues, and carnival music of the damned.
---
BWW Feature: Brelby Theatre Company Thrives In Spite of COVID-19

May 15, 2020

Brelby Theatre Company is a prolific, independent theatre located in the heart of Historic Downtown Glendale Arizona.
---
BWW Review: THE LAST ROMANCE at Stage Left Productions

February 23, 2020

Heart-warming, indeed. It's in the writing, yes, but it's the great acting, deft direction and excellent production values that takes this production the distance.
---
BWW Interview: Joseph McGrath, Artistic Director of Tucson's Rogue Theatre

July 10, 2019

There is tremendous support in our audience for bringing younger people into the theatre, and we're having some success in that regard. I'm positive, but I'm also unsure of where we are headed with digital technologies and what they mean for our industry and the larger culture. Our challenge, I suppose, is to be adaptive to what comes along without giving up the wisdom and glories of the past.
---
BWW Interview: Robert Encila - Heart and Soul

July 1, 2019

We can placate a certain segment of society by providing 'enrichment' courses in the arts, but it should no longer be a mystery that you can't achieve holistic education without a strong emphasis in the arts. The US Bureau of Economic Analysis recently released an astounding statistic that reports over $763 Billion of contribution by the arts sector to the US economy. That's around 5 million workers in the industry, which accounts for hundreds of billions of dollars in compensation. Yet here we are, still waiting for an increase in financial support for arts programs in the schools. You can talk about Broadway, Hollywood, and TV culture all day, but young people are tomorrow's audiences and we owe it to the industry to develop an enlightened culture of young participants and consumers of the arts.
---
BWW Interview: Tucson's Mark Klugheit

June 26, 2019

Early in my acting career, I was represented by an agency that got me an audition for a recurring role in the series Breaking Bad. It clearly would have been the biggest break of my acting career. I had a short side of two pages to learn for the audition. Usually, I have a pretty photographic memory for lines, and I work hard to be sure I know them cold. But for this audition due to nervousness I could never get the lines solid, and sadly what the producers saw was not a potential character in their show, but an actor clearly struggling to remember the next word he was supposed to say. My biggest opportunity and worst audition all rolled into one disappointing 10-minute take.
---
BWW Interview: Alex Tuchi of POLYPHEMUS at B3 Productions

June 27, 2018

It's really easy to write someone off as mentally ill when you don't understand them, and it's often easier to do this to yourself when you can't reconcile who you are and who you want to be.
---
BWW Interview: The Transcendent Kevin Fenderson

November 10, 2017

As an artist, I always want to grow. That's part of why I took on the challenge of stage managing Depend on Me. It's given me a much broader perspective of theatre as a whole, and I'm SO grateful for that opportunity. As far as where I'd like to go artistically? Well, I can't do that alone. I love an artistic challenge, the chance to take a risk. I would love for more theatre companies to do the same. Specifically? Cast me as someone you wouldn't expect, given my size and/or gender. Give me a chance to blow a few minds. That's my dream.
---
BWW Review: MEET ME IN ST LOUIS at the Hale

October 13, 2017

The Hale's newest offering is a holiday confection - sweet and delicious - like a freshly shaken up, edible snow globe. Director Cambrian James has put together his finest (thus far) staging of the season. On the marvelous arena stage in Gilbert, the tight, swift-paced send up of the classic 1944 film is enchanting, from overture to finale.
---
BWW Review: DEPEND ON ME at Brelby

October 9, 2017

Depend on Me is feels like a sitcom filmed before a live audience, until just before intermission, when it takes a turn and feels like late M*A*S*H, when they dropped the laugh track and things got dark. There's a surprise ending and much entertainment in the two-act play.
---
BWW Feature: The Anatomy of a Critic

October 9, 2017

As a columnist and critic, I get a lot of feedback, some of it not altogether pleasant, some of it rather negative, and some downright hateful. We learn, early on, that there will be people who vehemently disagree with our opinions - there's simply no accounting for taste. We also learn - and it's hard to accept - that we will get hate mail from people who are furious that our WRONG criticism has been published for all the world to see.
---
BWW Interview: Alexis Green of SEVEN GUITARS at BTT

October 6, 2017

BWW Interview: Alexis Green of SEVEN GUITARS at BTT
---
BWW Feature: Black Theatre Troupe's SEVEN GUITARS

November 1, 2017

'The themes in this play, as in all in the Cycle, are universal. Unfortunately some of those themes and challenges are still relevant today. It is imperative that as a cast we explore and examine these themes before we even begin to tackle the language. Fortunately enough August Wilson's language succinct and inspiring. His characters are so clearly and powerfully structured that the journey for a cast to 'know' and 'find' these people. They are richly drawn,' Hemphill concluded.
---
BWW Interview: Carolyn McBurney

September 29, 2017

Of course, we can continue to produce our own work- and there is a growing amount of that being done in the Valley. Some of the companies in town have had their awareness awakened to this issue and have started choosing scripts by and for women- some even have roles for women our age! There are also groups of women forming to address the issue - Arizona Women's Theatre has expanded its mission to that express purpose and mounted Eve Ensler's 'Necessary Targets' at MET in September. The Bridge Initiative is focusing on works by and for women. What concerns me is how we approach it. I hope that rather than be bitter and becoming entrenched, we find ways to work within the system to change it. We all need to challenge ourselves to be more proactive in ferreting out scripts that represent those not being represented- not just 'women of a certain age', but disabilities, cultures, creeds - and when we select those scripts - casting from those populations.
---
BWW Interview: Ricky Araiza

September 26, 2017

Being out there, in nature, learning what many consider classic or ancient forms of performance, was almost a step back in time. It was a place to strip down theatre to its purest form, the actor/poet in space. It taught me to never take theatre for granted and to understand that it is a sacred practice and should be treated as such.
---
BWW Interview: Scott Hyder

September 25, 2017

I have seen Scott this year in two different productions of Gypsy. He played the character Herbie in both of them. I'm inordinately fond of that show and have been a little in love with Herbie since I first saw the film sometime in the late '60s, with Karl Malden in the role. There have been many fine Herbies along the way, but none hit as many of the character's emotional and dramatic notes as did Scott in both productions, even surpassing Malden, in my view.
---
BWW Review: EAR at Space 55

September 25, 2017

Loosely inspired by the life of Van Gogh, EAR is a story as old as time. A boy loves a girl. To prove he loves the girl, the boy gives her a gift. A BIG gift. The kind you can't take back. And now the boy is in a mental hospital, at the mercy of a doctor who's even crazier than he is. And the girl? Well, she's starting to hear things, WEIRD things, late at night. It's an all-American story about love, insanity, auditory phenomena, experimental therapy, cannibalism, and talking birds.
---