BWW Feature: Brelby Theatre Nourishes Historic Downtown Glendale
The mission of the Brelby Theatre Company is to foster an environment for artists to imagine and grow freely, create quality intimate theatre, and inspire our community.
Theatre entrepreneurs Brian and Shelby Maticic graduated from Northern Arizona University circa 2009.
Brian + Shelby = BRELBY.
Impossibly adorable. They gave me a generous two-hour interview, in a delightful little ice cream parlor that sits baby steps from their theatre in Historic Downtown Glendale Arizona.
Brian is from Kingman, a small Arizona town on the Nevada border that is only now starting up a theatre. Because there wasn't one there when he was growing up, when he was 16, he started his own "troupe" and then founded a company and started producing when he was only 18. When he started college, he already knew he wanted to do it all - act, direct, fight choreograph, design, and produce. When he met his future wife, Shelby, they knew right away they wanted to start a company together.
"We're huge proponents of creating our own opportunities, not waiting for someone to drop them in our laps," Brian said, "and we thought it was the only way we were going to be able to do it all - write, direct, act, design, produce - not necessarily at the same time, but we didn't want our options to be limited. We also wanted to offer those opportunities to other artists.
Here's where the encounter gets serious, and we transcend the adorableness - it doesn't go away, but it deepens and we begin to appreciate the breadth of commitment these two young, talented people have taken on. They're bright, sharp and articulate. They know what they're after, but they don't put limits on the discoveries before them.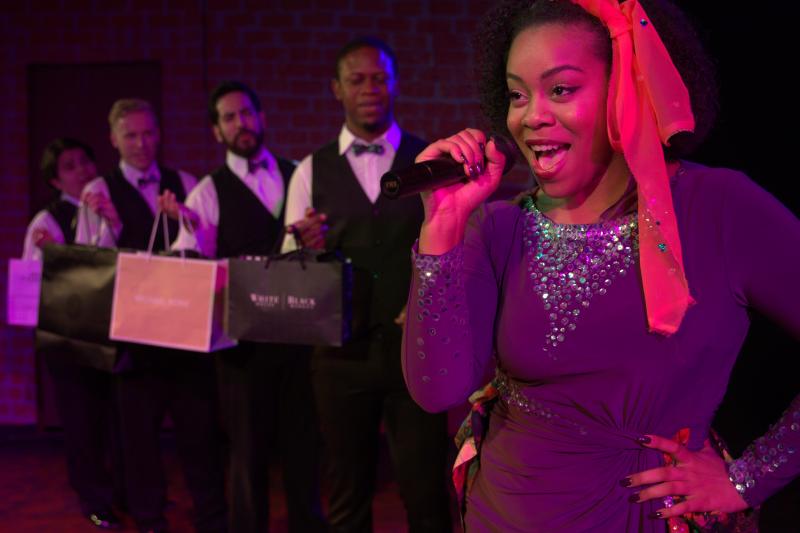 Brian continued, "We thought about going to California, but there's so much there already. We fell in love with Glendale and saw a real need for more art here."
"Downtown Glendale reminded us so much of downtown Flagstaff," Shelby added. "That was part of the initial attraction, but when we started poking around, the merchant community was so supportive that it solidified our choice to be here."
Shelby is from Phoenix and both she and Brian are close to their families and wanted to stay "within reach of them." The two wed in 2011, when they were both working full time in a call center, writing and producing a show and buying their first house.
"It was a little nuts," Shelby laughed.
They spent three years in a small space, just five minutes walking distance from their current location. "It was a great little space to get us started, but it was older, hadn't been well maintained and there were giant pillars in the middle of the stage, and it was very, very small. Our dressing room/green room hybrid was a hallway in back. We outgrew the space almost the moment we stepped into it," Brian said.
With the help of an enthusiastic angel, they secured the financing to pursue the purchase of a new building. The Maticics say "the stars aligned for us." Property owners looking to retire and offload sold to Brelby the charming building they have retrofitted as a performance and rehearsal space. The price tag, "a little over half a million dollars," means they'll be paying off the building "for the rest of [their] lives." They continue raising money to finish the basement that is now part storage, part rehearsal hall, part classroom space. Equipped with three downstairs lavatories and even a shower, in addition to the two upstairs lavatories, the space is remarkably civilized.
Their next goal is to open the downstairs space as an intimate (35-seat) performance space. The biggest challenge is to round up funding for a ramp for patrons who use wheelchairs, walkers and strollers for children, et cetera. The main floor came with a ramp - see what I mean? Civilized. They're selling bricks in the courtyard to, in Brian's words, "emblazon with messages and names," and placards for the seats in the mainstage house.
"In the meantime," said Brian, "we're fully utilizing the upstairs space.
And how. I had to take a nap after reading their 2017 schedule. Brelby runs on a calendar year. No sooner has their 2016 season ended (December 18th) than their 2017 season kicks in (January 6th). I know what you're thinking. They're maniacs.
Yeah. They are. In the very best meaning of the term. Not only do they offer a "ShowGo" program that offers unlimited seatings to any and all of their shows for $12 per month, but Brelby is committed to encouraging, nurturing and producing the work of local playwrights. Their 2017 lineup features ten world premieres:
The Night of Shorts - January 6-14
(A Studio Series Production)
Featuring short plays by Ilana Lydia, Jamie Maletz, Jessie Tully & Mia Passarella, Jaren Navenma, Chelsea Frandsen, and Allison Bauer
Peter and the Starcatcher - January 20-February 12
(MainStage)
A Play by Rick Elice
Music by Wayne Barker
Based on the Novel by Dave Barry and Ridley Pearson
Guest Director: Louis Farber
Blacklisters - February 17-March 4
(A Studio Series Production)
By Luke Gomez
Directed by Van Rockwell
The 25th Annual Putnam County Spelling Bee - March 10-April 1
(MainStage)
Conceived by Rebecca Feldman
Additional Material by Jay Reiss
Music and Lyrics by William Finn
Book by Rachel Sheinkin
Directed by Shelby Maticic
Space Junk - April 7-22
(A Studio Series Production)
By Cody Goulder
Directed by Luke Gomez
unexpected - May 19-June 10
(MainStage)
By John Perovich
Directed by Gerald Thomson
The Pledge - June 16-30
(A Studio Series Production)
By Megan O'Connor
Directed by: Brian Maticic
Dogfight - Sept 15-30
(MainStage)
Music and Lyrics by Benj Pasek & Justin Paul
Book by Peter Duchan
Based on the Warner Bros. film and screenplay by Bob Comfort
Directed by: Shelby Maticic
The 4th Annual Miscast Concert - August 11-26
(A Studio Series Production)
Whisper Sweetly - September 15-30
(A Studio Series Production)
By Devon Mahon
Directed by John Perovich
Depend on Me - October 6-28
(MainStage)
By Brian Maticic
Directed by Fernando Perez
A Midsummer Night's Dream - November 3-5
(MainStage)
By William Shakespeare
Directed by Jessica Holt
Elf Academy - December 1-17
(MainStage)
By Shelby Maticic
Directed by Brian Maticic
Where Our Stuff Goes - March 11-April 9
(Brelby for Young Audiences)
By Ashley Laverty
Directed by Shelby Maticic
The Time Machine - Fall 2017
(Brelby for Young Audiences)
By Luke Gomez, Megan O'Connor, John Perovich & Shelby Maticic
Directed by Ilana Lydia
Look for a preview of Peter and the Starcatcher, opening January 20th at Brelby!


Related Articles View More Phoenix

Stories

Shows